05-27-2008, 12:56 AM
Member of the Month

State:
Eating Dried Poop?
---
I know this might be a little strange, but lately I have found Little Joe on the bottom of his cage, eating the dried poop. I have a grate that separates the pull out tray from the perching area, and poop sometimes gets stuck to it. I don't know why Little Joe is eating it... and maybe someone else does
I have read that it might be lack of vitamins, but I do have a cuttlebone/mineral block in their cage that he seems to enjoy. I also feed them fresh fruits and veggies about every other day. They eat Harrison's Pellets for their main diet.
Any help is accepted
Thanks!
__________________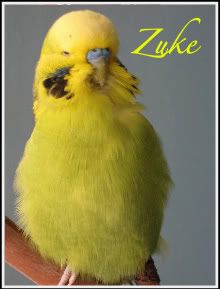 Little Joe and Zuke