Contestant 1 - Mr. FluffyFace (Aisliyna)
Name: Mister FluffyFace
Gender: Male
Age: 9 months
About Me: I'm just a big ol' teddy bear of a guy, looking for a lady that will love me. ALL of me.
Hobbies: Eating, Perching, Preening, Eating, Hanging out with my best bro; Shade and Eating.
Turn Ons: A lady that can regurgitate a nice home cooked meal every night after I get home from a long day's perching.
Turn Offs: Uptight girls with too much energy.
Life Ambition: To find the right hen, settle down and eventually raise some chicks.
************************************************** ******
Name:
Falco
Gender:
Male
Age:
1.5 years
About Me:
I am the only single bird in my flock
. I have a bromance with my best buddy Pickles, but with him having TWO girlfriends
it's time I found someone for ME!
Hobbies:
Goofing around with my buddies, playing pranks, swimming, keeping the flock in line.
Turn Ons:
Sense of humor, playfulness, and a gentle nature.
Turn Offs:
Bossy hens!
Life Ambition:
Police Officer!
************************************************** ******
Contestant #3 Henry (BudgieSweet)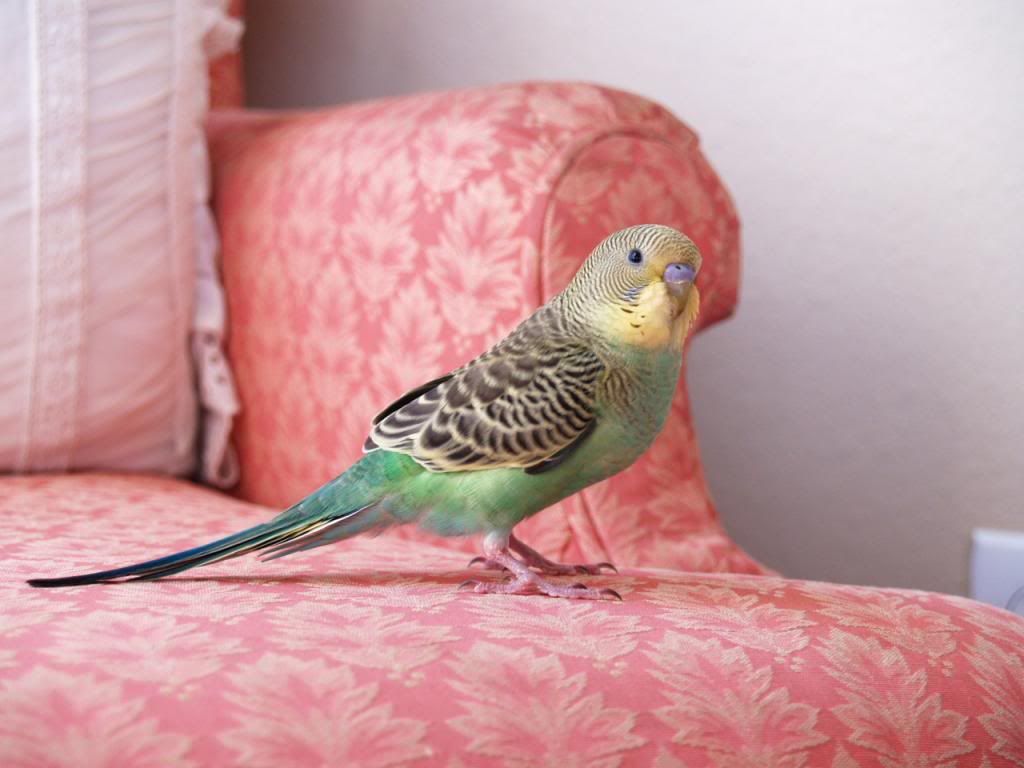 Name: Henry
Gender: Male
Age: 5 months
About Me: I am a very sweet young man. I love to show off by playing with my toys and singing loudly! I am sensitive and gentle and love a good cuddle. I am also a big veggie guy!
Hobbies: Ringing every bell I can find, eating healthy and singing.
Turn Ons: Girls that love to cuddle, sing and preen!
Turn Offs: Sleepy heads.
Life Ambition: To find the right budgie for me
************************************************** ******
Contestant #4 Indigo (LynandIndigo)
Name: Mr Indigo Tyson
Gender: Male
Age: 2 years
About Me: I love preening my feathers so they shine and to catch a female. Think i'll be the next top model. I am adorable. Love my veges silver beet to make my muscles big. I love life and have the best home and a wonderful Family who cares about me. My mum loves me very much she gives me treats.
I am a bit of a talker guess i get that from my mum. I also love to sit on my mum's shoulder and be the center of attention.
Hobbies: Teasing Lyn's mum. Getting kisses from my mum. Playing with my toys. Helping Lyn's mum with her hand made lace. I help my mum with her chores like when she has to clean out my cage I try to make a bigger mess for her to clean up. I love teasing and also have good manners.
Turn Ons: I am a bit of a charmer with the ladies and hope to catch one to settle down. I love to sing to. I have a good sense of humour and a heart of gold. I'm a big softy.
Turn Offs: I get bossy. Love to boss Lyn's mum around she is not impressed. Sometimes i squawk when i hear strange noises to inform my family. I get my own way when i want to get out of the cage for a fly around the room but then when I don't want to go back i put on a tantrum and make it hard for them to put me back in the cage.
Life's Ambitions: To be able to find my beautiful princess and to have lots of little Indi's flying around our home.
************************************************** ******
Contestant #5 Turk (Cody)
Name: Turk
Gender: Male
Age: 3 years
About me: I was adopted by my current owner from a shelter, with 3 of my buddies, after being removed from a house where I was with living with over 300 other birds.
Hobbies: I just love looking at myself in the mirror and sharing my food, I feed everyone that will give me a chance.
Turn Ons: Friends that will head bob with me beak to beak.
Turn Offs: Old hens that snap at me when I try to feed them.
Life Ambition: To find a preening expert. I have had some really bad pinnies on my head and I could really use some help with that.
************************************************** ******
Contestant #6 Shaq (Jedikeet)
Name:
SHAQ B
Nicknames:
Big Daddy, Sir Shaq-Attak, Shaq the Mack, Wild Thing
Gender:
100% Alpha Male
Age:
Old enough for this game!
About Me:
Born 2 Be Wild and Bad 2 da Bone! Bold, Pleasant to Behold but also with a Heart of Gold. A real gentleman who knows how to treat a lady to a good time, but admits to still having a bit of a restless heart. Just a playful stallion waiting to meet and to be tamed by 'the One'.
Hobbies:
Basketball, mixed martial arts, staying in top shape, break-dancing, karaoke, and collects fine automobiles.
Turn-Ons:
Perky, curvy, and flirty females who know how to shake that tail!
Turn-Offs:
Everything not a turn-on!
Life Ambition:
To retire as the undisputed King of Dunks, meet and settle down with Miss Right, have a clutch of little Shaqies and Shaquettes...but still party hardy and live life to the fullest until that day comes!
************************************************** ******
Contestant #7 Wiki (Wiki)
Wiki
by
Wikibudgie
, on Flickr
Name:
Wikileaks (my friends call me Wiki)
Gender:
Male
Age:
2 1/2 years
About Me:
I'm a sporty kind of bird, you couldn't call me a perch potato. I like to be active, but I also know when it's time to nap there's nothing like cuddling up on a warm perch with that someone special.
Hobbies:
Keeping pet humans, sports (
basketball
,
bowling
,
darts
, aerobatic flying), keen amateur magician - all I have to do is
lift my wings and millet appears
!
Turn Ons:
Girls who can fly, like to dance and don't mind being called a "dirty bird" from time to time!
Turn Offs:
Millet and swing hogs, perch potatoes, hens who won't
clean up after themselves
and anyone who gets between me and my
slinky spring
.
Life Ambition:
To share my life with a hen who'll understand my special relationship with my pet humans and want to help me with my magic act - as I really could use a lovely assistant
************************************************** ******
Contestant #8 Buddy (lucypets)
Name: Buddy
Gender: Male
Age: 2-3 approx (rescue)
About Me: i love to watch the world go by and preen my feathers alot
Hobbies: preening and chirping the day away
Turn Ons: im a shy male budgie still learning to trust people but im very chirpey and full of life
Turn Offs: budgies who have alot of bad feather days and messy budgies who like to poo alot
Life Ambition: to find a lovely bird friend
************************************************** ******
Contestant #9 Julio aka Chip (BirdCrazyJill)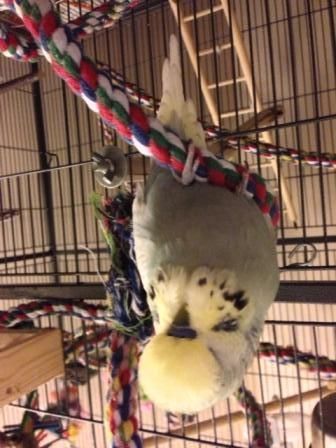 Name:
Chip aka Julio
Gender:
Male
Age:
3 years+
About Me:
"I'm just a single guy living the bachelor life dream!"
Hobbies:
Eating, Preening, Napping, Talking to inanimate objects, Rolling bell balls around on the floor, Regurgitating to anything reflective
Turn Ons:
Mirrors, When my mom sings to me, Millet
Turn Offs:
Being pet... don't touch me
Life Ambition:
I just take things day by day, I'm in no rush to grow up, I like to chiiiiiill baby
and why won't the cockatiels just let me talk RIGHT to their face?
************************************************** ******
Contestant #10 Duke (kspudz)
Name: Duke
Gender: Male
Age: 21 (again)
About Me: I consider myself to be the "wise one" of the flock. I mean, fancy putting me with all these youths...they need a rock, an example to follow, one who will show them what it is to be a truly rounded budgie. As a result, I live a life of tolerance and moderation. (Ok, perhaps I become a bit obsessive when I find something or someone I like. But don't let that put you off!) I do like to talk...a lot. And I'm sometimes misunderstood because I always have a stunned look on my face.
Hobbies: Perfecting "body-bobbing" (head-bobbing, but with my entire body).
Turn Ons: Large throat spots. A woman who likes to stop and smell the celery leaves. (I used to be turned on by the sight of myself in a mirror, but that was when I was young and self-absorbed...)
Turn Offs: Tail-biters. Morons.
Life Ambition: I've waited a very long time to find that special hen - I've had to watch on as other blokes around me have fulfilled this dream. So my life ambition is to find my one true love who I can dote on and puke at for the rest of my days. Oh, and to be able to sit on top of the blinds and poo all over them without being caught by that weird human who keeps staring at me.
************************************************** ******
Contest #11 Budget (Pretty boy)
Name:
Budget
Gender:
Male
Age:
18 months, in my prime.
About Me:
I am a true blue Aussie budgie, born and bred here in Australia!
I am a stunning vibrant couloured budgie with cute throat spots to die for.
I have a fun loving outlook on life, I am not one of those couch perch types. I prefer to be Head bobbing, dancing, doing agile fly pasts -- you get the idea?
The hen that catches my eye will be spoilt by my human, a varied diet is assured; occasional apple cider cocktails will be offered, regular pamper sessions at the salon - nail clipping, and full body massages are a regular happening here.
Hobbies:
I can speak two languages fluent budgie the Australian version, and human .
I can also reguratate to the object of my desire and preen in places no other budgie could get to, thanks to my supple strong beak from doing yoga and neck stretches when adjusting my crop.
I have amazing balancing skills, Flying and running are my speciality. I am super fit and healthy. "What a catch!" I hear you say.
Turn Ons:
The hen that is chosen to be my lifetime girl is without doubt going to have a stunning shake to her tail feathers, be friendly and willing to share the duties of bringing up a clutch of fine feathered chicks.
She doesn't have to be the one who is always on the swing at night time, in fact I would rather she be willing to share. A great sense of pride in her nest is a must for me, sorry girls if you have stray feathers and poop stuck every where in the home then I am not for you.
Turn Offs:
Bossy, feed dish hogs are not for me, A girl who can find the time to do that little extra preening for herself NO way! AND definetely no biting my human !!
Life Ambition:
My life ambition is to find my true swing mate, share the nest and feeding responsibilities equally and retire to the country where we can spend our days in the sunshine watching the grass grow.
************************************************** ******
Contestant #12 Sprite (BudgieBudds)
Name:
Sprite (Though I should've been named Happy-Go-Lucky!)
Gender:
Male
Age:
3 years old
About me:
I came to live with my momma ( I still call her that even though I'm all grown up! You're never too old for your momma. ) earlier this year along with my buddy Misty. Misty and I are basically brothers. We've been together for as long as I can remember. We've gone through a lot together, but now I'm looking for that one in a million girl. I'm a happy guy, excited about life and about everything else. I can sometimes be a bit goofy. If budgies can smile, I do. I'm looking for that special girl that I can share my passion for life with.
Hobbies:
Body-bobbing. That's a big one. When I get excited, I just can't help it. My body just wants to bounce to the beat. I especially love to bob in front of my favorite mirror. And get this, there is always someone bobbing back! I love that guy. I'm also an enthusiastic singer. Though my momma tells me that my music isn't always pleasing to the ear. When I get real passionate about something (never in anger!) I accidentally kinda screech. But most of the time I chirp happily. I sing to my momma, to Misty, and to any other bird in the neighborhood that makes the mistake of making its presence known. Hey! I can't help it! I'm a social guy
Turn-ons:
A cheerful personality! That's one thing I can't resist. I'm a happy guy and I need a happy girl to complete me. I want someone that I can body-bob with and that will join me in my other exotic dances. I need someone that I can jump to perch to perch with for no apparent reason and that's not afraid to act goofy! Why not? Life's meant to be enjoyed. I'm a goofy guy looking for that silly girl that's right for me.
Turn-offs:
Negativity. I don't like budgies who aren't happy and are just plain old mean. I get upset when I get chased away from food or pecked at. I don't like birds who can't share either. I don't want to be chased off my favorite perch when I would gladly share it. Mean budgies scare me...
Life Ambition:
To find that one in a million girl. My cheerful partner that I can enjoy life with and live it to the fullest. Could that girl be you?
************************************************** ******
CONTESTANT #13 Andy (felixandfideaux)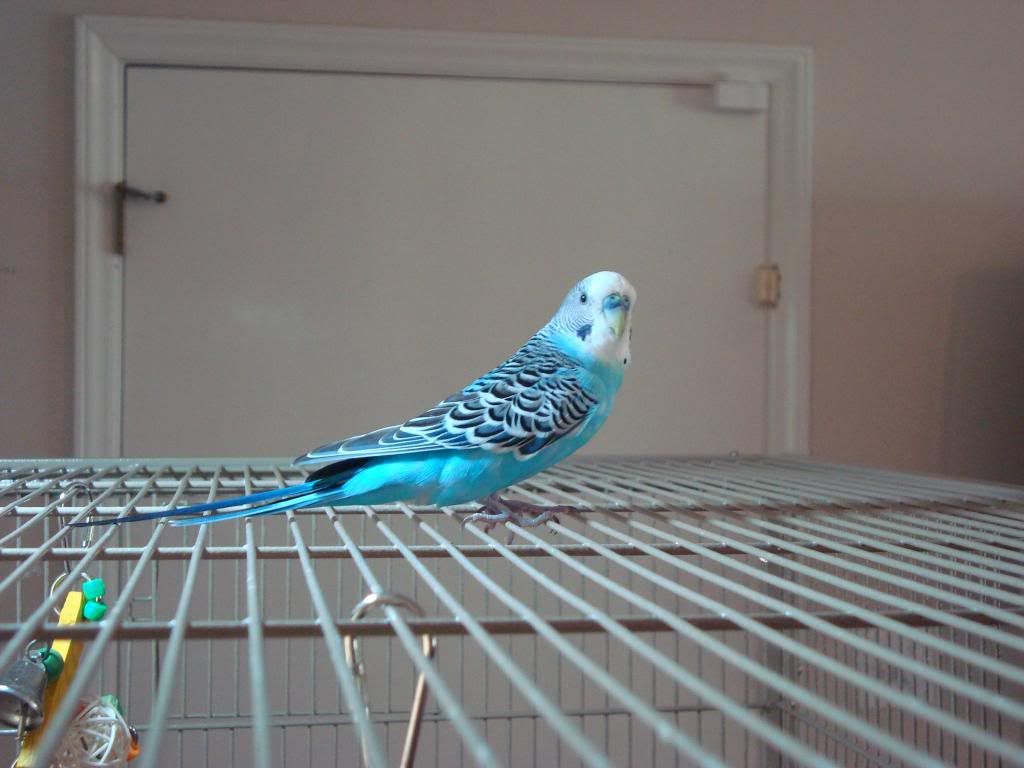 Name: Andy
Gender: Male
Age: 3
About Me: I am a bonified, hand raised, blue, pet store bird.
Hobbies: Sitting on Mom and Dad's glasses and spending the day with them. Talking human. Whistling Andy Griffith/Spongebob Squarepants theme extended remix.
Turn Ons: Plastic yellow bird head, that my Mom had to take away from me recently. Eating out of Mom's hand. Flying around the house. Playing soccer on my cagetop.
Turn Offs: Artemis my parakeet "friend with no benefits."
Life Ambition: To spend the rest of my life with Mom.
************************************************** ******
CONTESTANT #14 Percy (SarahR)
Name: Percy
Gender: Male
Age: 8 months...nearly 9
About Me: I'm not the most "handsome" chap ever, but there has to be somebudgie out there for me.....i hope
Hobbies: I love my millet! oh boy....I can never have enough, but i do watch my weight......kind of. I love showing off my "cool" moves on my swing, my one foot swing around the bars and swinging by myself.....so far not impressed anybody....
Turn Ons: I love girls who will sit and preen me while I preen them.....so romantic
Turn Offs: When girls stop me swinging by grabbing the swing....hate it...
Life Ambition: To raise happy and healthy chicks...and after that.....become master millet eater!
************************************************** ******
CONTESTANT #15 Mista (AnimalKaperZ)
Name: Mista
Gender: Allll male!
Age: I turn a mature 3 in September
About me: I do love my human, so any potential babe for me will have to at least tolerate her and remember, she does all the cooking , cleaning AND brings occasional treats! I am looking for a lady who will help me when I am moulting )As you can probably see, I am moulting now ). I shall of course return the favor with my lady's pinnies! I love to sing and fly at dawn and dusk and want to find that special lady to come fly with me! I am a S.N.A.B ( Sensitive New Age Budgie). I am a lover, not a fighter. Think Antonio Banderas!
Hobbies: I love playing budgie soccer and like swinging on the swing my human made me. Shredding fresh bark is another hobby I really love! Talking and learning new words is fun too!
Turn ons: A gentle hen, with a beautiful song in her throat, who would like to have a family!
Turn offs: Physically aggressive hens. Actually, any physically aggressive budgie, no matter the gender!
Life ambition: Finding my soul mate and hearing the pitter patter of little claws would just be millet icing on an already great life. Are you THE ONE I am looking for?
************************************************** ******
CONTESTANT #16 SkyBlue (SkyBluesMommy)
Name: Sky Blue
Gender: Male
Age: 2
About Me: I am a textbook mama's boy. Girls like a guy who loves his mom and I love her lots! I must sit with her when she eats, rests, and does chores around the house. I call for her when she is not around. I ignore the rest of the people in our house.
Hobbies: Making veggies disappear, making all of my hanging toys swing at the same time, cheering on the Seattle Seahawks, learning new words and phrases.
Turn Ons: Shiny things, like mirrors and bells, millet, a freshly cleaned cage.
Turn Offs: No biting! Ouch! Getting locked up in solitary during mom's meal times.
Life Ambition: To defeat Taima, the hawk, as the official mascot of the Seattle Seahawks. He leads the team out of the tunnel before home games and visits with fans in the stands. I can do that, too, plus I can talk! Makes me more qualified, indeed. And I am blue...need I say more? Oh yeah, "Go Seahawks! Go Seattle Seahawks!"
************************************************** ******
CONTESTANT #17 Penry (Birding)
Name:
Penry
Gender:
Male
Age:
9 months
About Me:
I am a silly, fun, and affectionate fella. I spend my days making new friends at the window bird feeders and cuddling with my humans.
Hobbies:
Talking! I can chat up a storm, and I know over a dozen human phrases! (I make an irresistable kissy noise, too). I'll call you "baby bird" all day. I also like nibbling on scraps of paper and finding toys that let me swing back, forth, and upside down. I am a healthy eater- pellets, fruits, and veggies make up most of my diet- but I never say no to a little millet.
Turn Ons:
I'm looking for a lady who wants to be cuddled and sweet-talked (my latest phrase is "Hey good lookin'! Can I buy ya some millet?"), but who also wants to live an active life style. I spend a lot of time chirping on the windowsill, so I hope you like it there too!
Turn Offs:
Someone who gets jealous when I spend time with humans. You'd need to know how to share me with them.
Life Ambition:
To broaden my vocabulary as much as possible so I can keep my lady wooed, entertained, and feeling special. See my progress
here
, but I've learned a lot since that video and I plan to learn more.
************************************************** ******
Contestant #18 Winston (pauldkenyon)

Name: Winston
Gender: Male
Age: 13 months
About Me: I am the loudest Budgie ever.
Hobbies: Getting seed in as many places as possible!
Turn-Ons: Verity
Turn-Offs: Cockatiels
Life ambition: To chew EVERY curtain rail in the entire house!
************************************************** ******
************************************************** ******