May Dating Game
Contestants
Best Bachelorette
Non-Entry Profile
I'm not
really
entering the Dating Game Contest,
'cause I don't need a contest to get dates
and I really want one of the girls who did enter to have the opportunity to win a date.
But I did think it would be fun to write my profile so here it is:
Name:
Delilah
Nicknames:
Delish, Bella Baby, Sweet Cheeks, Angel Eyes
Gender:
Female – isn't that obvious?
Age:
Does it really matter? I'm fun and and full of personality so that's all YOU need to know.
About Me:
Perky, flirty, charismatic girl with a bit of a wild side. The one to win my heart will have to be willing to keep up with MY flights of fancy.
Hobbies:
Dancing – nobudgie can shake tail like me
. Sky Diving, Gymnastics, Soaring on the trapeze and free form swimming.
Turn Ons:
An alpha male with a tough-guy persona able to show his lady love true affection and give her the freedom and confidence to let her naughty side show; slow sweet kisses, dessert and snuggles after all the playing is done!
Turn Offs:
Narcissistic, rude, selfish and/or inconsiderate budgies, bad kissers, and anybudgie who talks through movies so I can't hear what the characters are saying.
Life Ambition:
To maintain a sense of humor and bring happiness, love and joy to the one budgie lucky enough to win my heart.
* * * * * * * * * * * * * * * * * * * * * * * *
Contestant #1 Gloria (Bushy)
Name: Miss Gloria Chlorion.
Gender: Female
Age: 9 Months.
About Me: I'm a beautiful, sassy and independant bird, but I'm missing something, could it be you?
Hobbies: Posing for photo shoots and preening.
Turn Ons: A strong bird, who knows how to look after his hen.
Turn Offs: Messy Eaters, (Millet Meals are a must, but not if they're going to end up all over the place!)
Life Ambition: To find a bird I can settle down with, treat me right and maybe when I'm ready, we can make some little birds of our own!
************************************************** ******
Contestant #2 Dinda (aluz)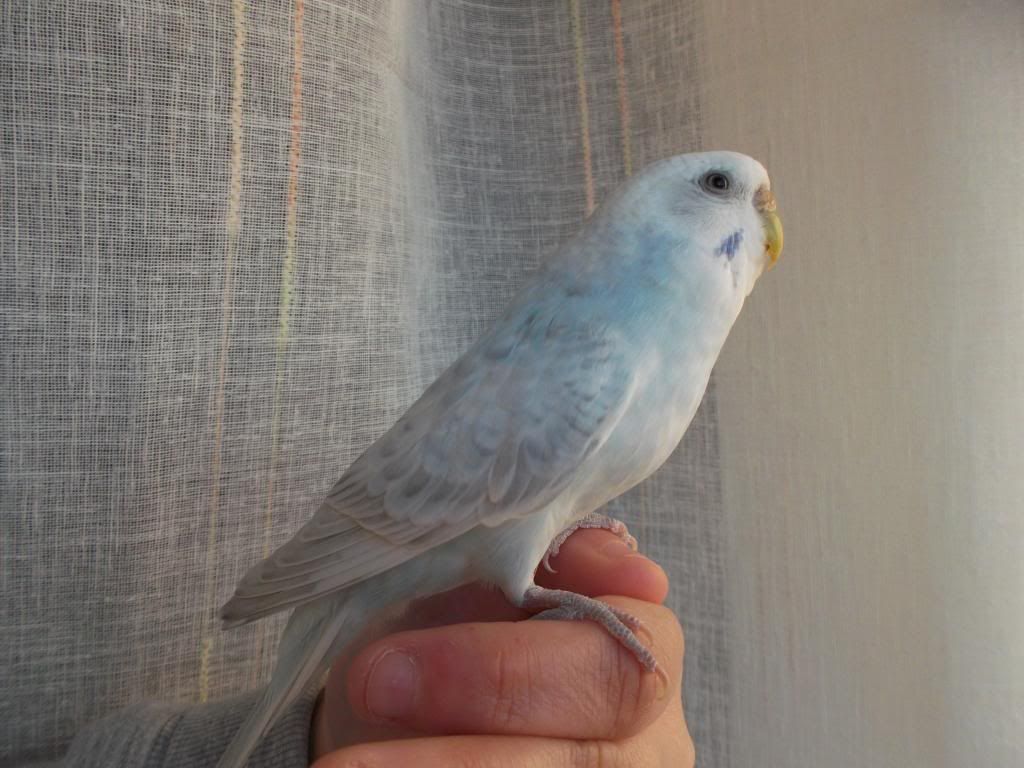 Name: Dinda
Gender: Female
Age: Almost 2 years old, hatch day June 16th, 2012.
About Me: I'm a kind, sweet tempered budgie girl looking for her prince charming.
Hobbies: I love to ride and sleep on my swing. Carrots are my favourite veggie to eat because they make my eyes even more beautiful and shiny.
I'm a great singer and can carry a tune as well as my siblings, flock mate Leonel and step father Carioca.
Turn Ons: I love playful, adventurous and energetic budgie boys who aren't afraid to be a little silly to win me over, sense of humour is very important in a budgie relationship. I prefer budgie boys with gorgeous yellow crests, so a blonde boy who isn't afraid of standing perched upside down like a bat on the cage's bars to get my attention is the right one for me!
Turn Offs: Lack of chivalry and good manners, if I want to sleep on the swing, he will have to step down and offer his place for me with no bickering involved.
I'm a young lady who genuinely dislikes fighting.
Life Ambition: To find my other half and help my favourite person to fulfill the promise she made to my father Tito of ensuring the safety and continuation of our Royal budgie lineage.
************************************************** ******
Contestant #3 Pickles (ilovepets)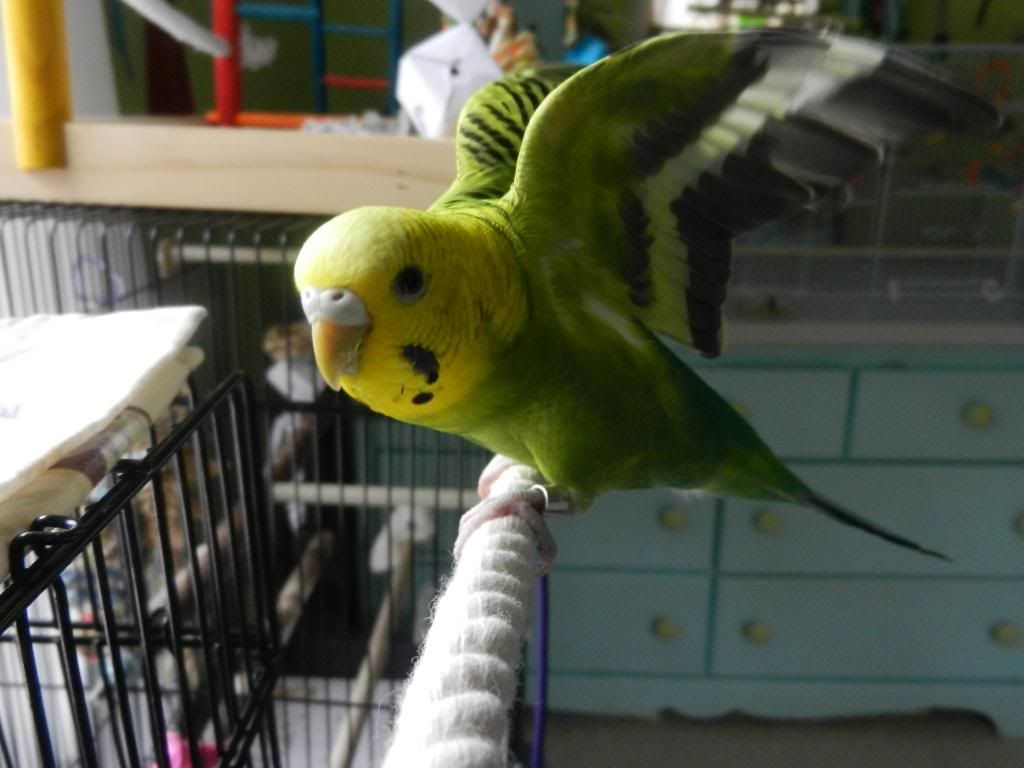 Name: Pickles
Gender: Female
Age: approx 3 (rescue)
About Me: i love to chew and be a bad egg sometimes. i love singing with the boys too! one of the boys i will peck at until he moves. i will not back down from a fight!
Hobbies: chewing, bathing, sometimes sitting on a rubber duck like an egg and living life on the edge
Turn Ons: birdie guys who love bathing, signing and will fly with me
Turn Offs: clipped wings, birdie guys who are never naughty
Life Ambition: chew through the window sill
************************************************** ******
Contestant #4 Blizzard (Mazz)

Name: Blizzard
Gender: Female
Age: Unknown-but old enough to date!
About Me: I'm a sweet girl with an unhealthy addiction to millet. I was found out in the cold and dropped at the local humane society where my human came and rescued me to give me a forever home. I live with another female budgie named Nimbus and spend the majority of my time following her around the cage trying to get her to play.
Hobbies: Throwing seed all over the place, destroying all paper in the world, pooping on mom's laptop
Turn Ons: millet, sweet singing of the birds outside
Turn Offs: Cold, that annoying cat
Life Ambition: My goal in life is to get Nimbus to be my one true BFF
************************************************** ******
Contestant #5 Aria aka Beauty Queen (Vargur)
Name:
Aria (nick name) Beauty queen
Gender:
Female
Age:
2
About Me:
Single and beautiful model, tame to my humans, love to eat veggies of any kind. Adopted.
Hobbies:
Eating Veggies! Getting social with my friends, singing, and I love having a bath!
Turn Ons:
Healthy, big and strong male budgies, my fav color is yellow but If I find good husband in another color then the color doesn't matter.
Turn Offs:
Dirty birds, my hubby will have to love taking a bath! Especially with me
Life Ambition:
Make my human happy and hopefully have kids with my wonderful hubby. Have fun!
************************************************** ******
Contestant #6 Bella (babyKeet)
Name:
Bella
Gender:
Female
Age:
3 months
About me:
I came to my new home a week and a half ago and I love it! I have a BFF and her name is Winter, she's like a sister to me... I can't go anywhere without her! I love to come out of my cage and stretch my wings and eat all of the treats that my mommy gives me
My favorite color is blue because that's the color of my best friend/sister <3 Also, I love when my mom calls me princess, I know I'm a princess!
Hobbies:
Cleaning and taking care of Winter AND looking pretty!
Turn-Ons:
Big, manly, yellow and green men who will take care of me when I have night frights! Also, a man who likes Winter and doesn't mind her sharing a house with us
Turn-Offs:
A guy who is smaller than me.
Life Ambition:
To eat all of the millet in the whole world! (only the good millet, not the gross millet)
************************************************** ******
Contestant #7 Chili (sheeshshe)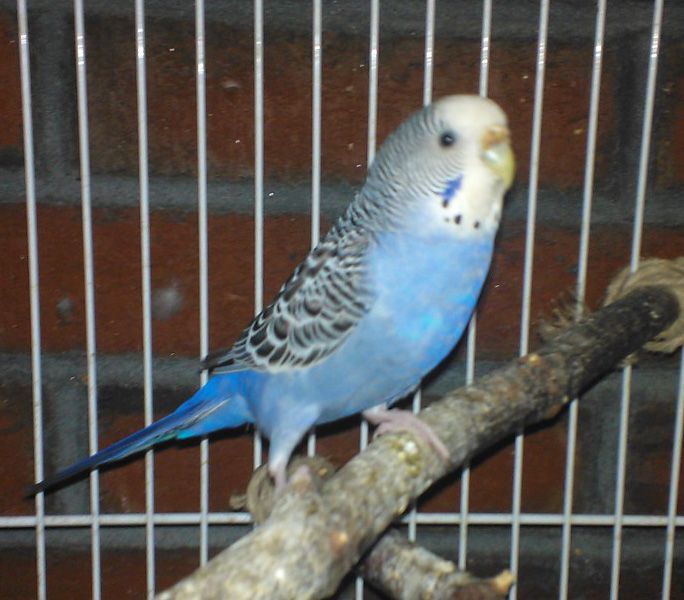 Name: Chili Marie
Age: 1 year 6 months.
Gender: Female
About Me: Hi, I am Chili. My human boy named me after the red hot chili steppers on a movie he was watching. I am a bit of a drama queen. When I came to live with my family, I immediately got sick. Once I got well, it took a bit before I decided that humans were nice. But then I fell in love with my female adult human, and I would love to make babies with her. Babies are on my brain ALL the time. But, I am a bit confused about what I am. Am I a bird? Am I a human? I'm not really sure, somebody help me! Oh, I know! I am part bird and part human! If I find my forever mate, he must be willing to deal with my drama. You're just going to have to deal with the fact, that if you disappear out of my range of sight, or you just aren't close enough to me, I WILL yell at you, so get back over here and kiss me!
Hobbies: Nesting. Rubbing my head on my toys. Nesting. Yelling at my female human to come over and kiss me. Nesting. Eating cuttle bone. Nesting. Eating millet. Nesting. Drama.
Turn Ons: A man who wants a family. A gentle, loving man who will support my hopes and dreams to some day raise a family or two or three or four. Any guys out there that want to 'getter dun"?? I'm not messin' around here people!
Turn Offs: Guys that don't like chicks. Passive men with no ambition for passing on their DNA.
Life Ambition: If you haven't figured it out at this point, you've got problems. But I will say it again, to have a FAMILY!!!!! That is all there is in life. Family. And that is all I want, need I say more?
************************************************** ******
Contestant #8 Cozette (Cozette)
Name:
Cozette (French for "Little Thing")
Nicknames:
Z, Baby girl, Princess
Gender:
Total girly-girl
Age:
20 something girl (or 13 months in budgie time)
Human look-a-like & role model:
The Duchess of Cambridge, Kate Middleton
Favorite Color:
Pink
Astrology sign:
Aries
About me:
Like my name suggests, I am a petite thing at only 27 grams on a bloated day. I am an easy going girl with a fun loving attitude. I love the finer things in life like organic millet and shiny things. I put a lot of work into keeping my shapely figure. Hey! Don't laugh! It takes a lot of will power to not just eat seeds! Anyway, even though I despise pellets, I will eat them, as I do appreciate the importance of staying healthy (and beautiful
). My BFF (Mina the linnie) and I frequent the bird farm for regular pedicures and indulge ourselves in a weekly spa session in the local human's fancy thing with fresh running water (I think she calls it a sink?). I also enjoy staring at myself in the mirror, practicing my skills with JW Pets shooting gallery (hey, I am a modern girl!), hopping around, squawking in the mornings, chewing on wood, and just being cute. Despite my regal looks, I am just a true, pure and sweet, southern bell at heart (but don't expect me to cook fried millet! That is not going to happen. Not just because I don't eat fried, but I also don't cook, lol).
Hobbies:
I am truly a cultured budgie. I am fluent in Parrotletese and Linnie Speak. I love to try different foods and visit different places the human takes me. I consider giving out kisses to those less fortunate than myself my way of contributing to the greater good and giving back. People seem to really love it
. I really am working hard to be the best budgie I can be, from the inside out!
Turn ons:
I really like guys that look like bad budgies but aren't. You know the scruffy type that are pretty under their facial feathers? Like the type that ride motorcycles but still have culture, etiquette, intelligence, a nice paying job, and know how to treat a lady. That isn't too much to ask for is it?
Turn offs:
I do not like lazy perch potato types that gorge themselves on seeds all day, have no ambition, and then ask for a belly rub. I want a guy that likes to stay active and get out into the world and do things together.
Life Ambition:
Be a good, ethical budgie like my human mom taught me. Meet the right budgie for me, a budgie who can be my friend and we can really enjoy life together. If the opportunity arises, I'd like to be a mom and still be able to be a good wife and also enjoy my own hobbies. I believe in balance. Whatever happens, I know that I will have a good life as long as I stick to my values.
************************************************** ******
Contestant #9 Starla (Squirt)

Name: Starla
Gender: Female, that's hen to you.
Age: Old enough to know better, young enough to not care, and wise enough to not get caught! (Between 2 and 4, we aren't sure.)
About Me: I'm too much of a hen for most cocks to handle. But there isn't anyone like me. I know my yellow face is sexy, and my throat spots bring all the cocks to the yard.
Hobbies: Looking at myself in the mirror (I can't resist!), parties, singing, bossing the rest of the flock around
Turn Ons: Letting me have the food bowl to myself, sharing a swing, someone who can do a good preening, and cuddling on the corner perch at night. I like a cock with a nice tail.
Turn Offs: Cocks that don't like to be pushed around, trying to steal my swing, bad kissers.
Life Ambition: To be fabulous! Oh wait...I've already accomplished that. Find the right mate...could it be you???
************************************************** ******
************************************************** ******
CONTESTANT #11 Elli (Ente)
Name: Elli
Gender: female
Age: 4 years
About Me: Huge beak, perfect flying skills, very smart, found my humans in a hardware store and didn't let them leave without me
Hobbies: Chewing on tapestry, landing on the ceiling lamp and watch the humans run around looking for me, long showers
Turn Ons: Talkative males, preferably with a nice British accent, who would like to join me in my daily flying practice
Turn Offs: Impatient men (I'm a bit hyperactive ), bad storytellers
Life Ambition: Fly like a little feather, chew all tapestry off the walls, find a handsome boyfriend
************************************************** ******
Contestant #12 Blue (Tisena)

Name: Blue (Bluebell/NarkyBurd)
Gender: Female
Age: 7-10years old, although, I resent that question, you should never ask a lady her age! (not entirely sure, inherited from elderly relative)
About Me: I find after owning my first human, a rather strange lady with ideas of grandeur, that in my present household is a drop down in class, they have rather rowdy music and have got me into some strange habits! I used to watch "Songs of Praise" "The Antique's Roadshow" and such like programs. However, in this household I suffer "Jeremy Kyle" and several annoying humans, with strange program taste.
Hobbies: Although I do not share the cage, there are a couple of cockatiels that fly around and land on my cage, trying to eat one's millet, which does not amuse me! And causes me to react in an unladylike manner, reverting to the threat of violence and colourful language! Although this annoys me at the time, I enjoy the occasional toe nibble. I enjoy the odd cartoon, such as "Spongebob Squarepants", "Kung Fu Panda", "Family Guy", but I prefer "American Dad" and love to sing to the starting theme. I also enjoy explosions and violence upon the television. I like to twang my cage bars for attention and watching other birds and humans out the window.
Turn Ons: I am looking for a quiet gentlemate, who knows the values of a strong lady, and does not hog mirrors or millet!
Turn Offs: A millet fiend that twangs my bars and hogs my mirrors!
Life Ambition: To fly high like an eagle and eat the cockatiel that dare touches my millet and to settle down with a docile male that I can domineer.
************************************************** ******
Contestant #13 Angel (luvangel)
Name:
Angel
Gender:
Female!
Age:
You should NEVER ask a lady her age! But if you must know I'm 6 months old.
About Me:
I'm a spoiled little princess that only pays attention to my mommy, Brianna. I'm a bird of habit and love everything to be PERFECT! I like to enjoy long rides on my mommy's shoulder and waking her up super early!
Hobbies:
I absolutely LOVE to make as much noise as possible (especially in the morning), chew on everything, practicing flying, and try to trick mommy into thinking I ate my veggies.
Turn Ons:
A playful, adventurous birdie who is very loving and loves to cuddle!
Turn Offs:
A boring goody two shoes who steals my food.
Life Ambition:
To eat everything, to find that perfect budgie, and to have little baby budgies
************************************************** ******
************************************************** ******
************************************************** ******