I had been wanting a lighting solution for my re-purposed DCN and was finally able to find a supplier that makes lighting specifically for bird cages / breeder setups. The supplier is called M & M caging and the have LED light sets in different lengths with all the accessories to go with them. I was looking at reptile and aquarium fixtures and these are comparable to them in price. my biggest issue was finding a fixture that I could hang inside the cage without it putting out too much heat or taking up too much room.
I went with 2, 24" fixtures, purchased a power supply, and an extension cable to hook them together. The fixtures came with clamps to secure them to the cage bars, but due to the vertical bars on the DCN, I ended up usng zip ties to secure them instead. I'll post some pics below to show you what they look like installed.
Pic of clamps (that I did not use)
Pic of underside of light fixture secured with zip ties (lower DCN unit)

Pic of the same fixture from below. It protrudes about 1/4" into the cage.
Picture of the whole DCN with both lights attached. The power supply is to the left (cord attached to side of cage and goes between bars at top). The connecting extension cable exits the lower fixture on the right side and goes up the side of the top unit to attach into the right end of that fixture. Each cage is 3' long x 2' wide x 2' high.
Pics of the inhabitants under their new lights. Budgies are in the lower unit and canaries in the top (budgies molting in pic).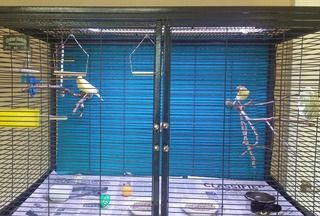 All in all, I'm pretty happy with the results. These were very easy to install and seem well made. They don't put out much heat at all (I held my hand to them while running and could barely feel any). The light color is similar to aquarium plant bulbs (slightly pink tone) but colors look natural under them. I think they may be cost prohibitive if you have a lot of cages, but in my case, I needed something that would fit my unusual cage circumstances. I paid about $70 for what I ordered (including shipping). Their shipping was fast and I would order from them again.
I hope this was helpful to someone. Thought I'd post in case someone else was looking for a fixture that would go inside a cage (like I was).