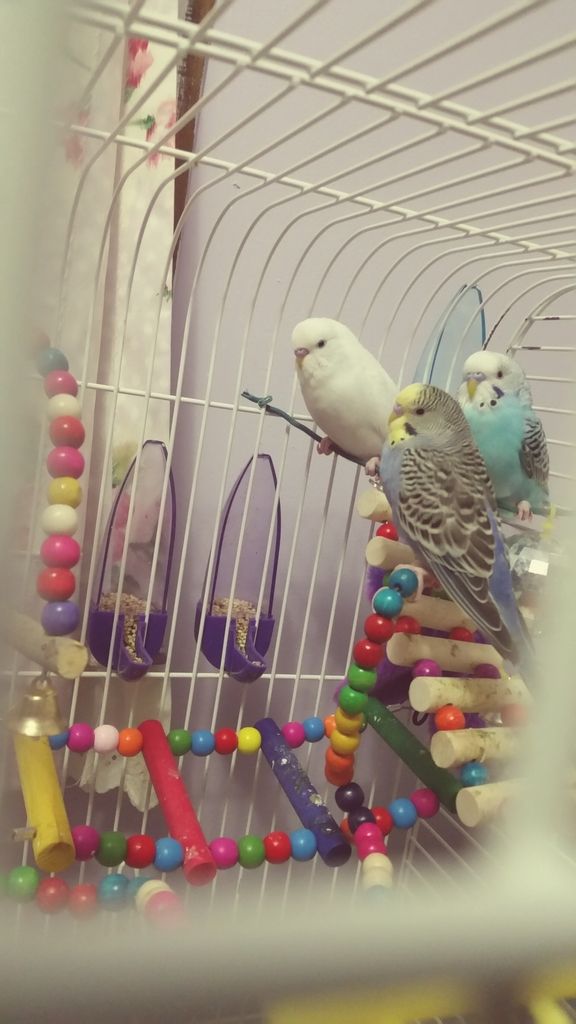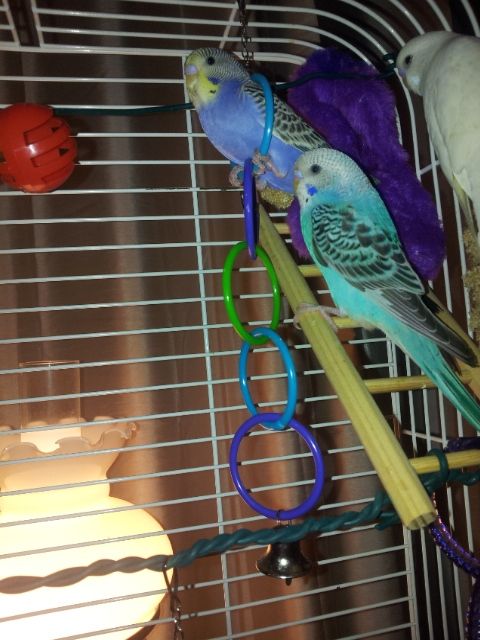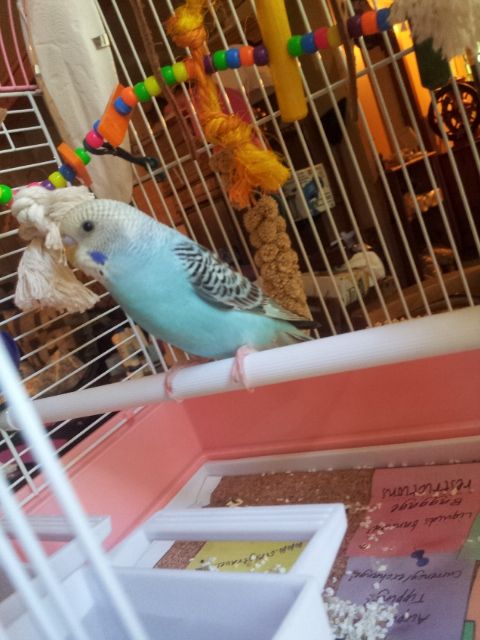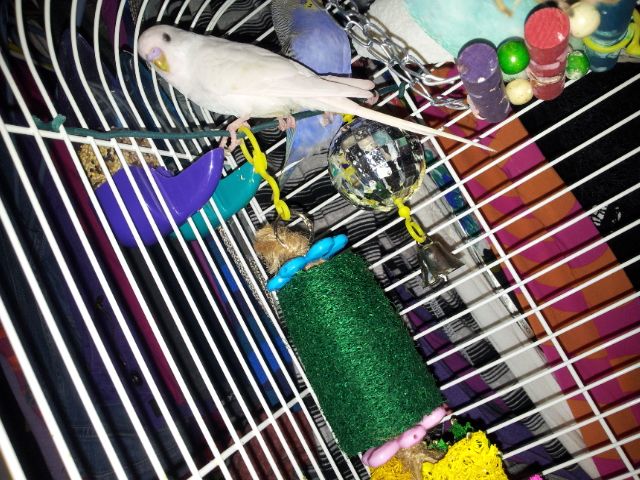 I had 3 Parakeets, but lost River (the purple one if I can figure out how to post pictures!) on Valentines day. I am now down to two, Clair and Moon. I named them after my favourite piano solos, Clair de Lune, River flows in you, and Moonlight Sonata. I am aware that Moon is a dark eyed clear... though when I shined a light on her head, I could see iris rings that are not otherwise visible in natural light. Is it possible that she is not a dark eyed clear? She is PURE white, not a stitch of any other colour on her. Clair I believe is your standard Skyblue Cinnamon Wing, though PLEASE correct this if I am wrong. I would also like to know what River was, if anyone is able to tell. I got all of my babies at PetValu here in Ontario, Canada, (I know.. not a great idea...) I got Clair at the end of July, and I figure she was about 2 and a half months at the time. I got River and Moon at the same time, mid-September, and both were sold to me as 'babies'... so roughly the same age that Clair was when I got her. (him? I don't know!) hahah. Clair's cere is violet/purple, with a fairly bright blue around her nostrils. I know that it is more difficult to identify sex in dark eyed clears, but Moon's cere is a sort of pinky purple (looks pink when comparing the cere to Clairs) but has white around her nostrils. Though I wasn't initially planning on breeding at all, I would still love to know their true genders. I may or may not keep their female names if they happen to be male hahah. So please help me identify the following:
Type of Parakeet/Budgie that they each are (were in River's case :'()
The gender of Clair and Moon
If Moon is a Dark Eyed Clear? Or if she CAN be with SUBTLE iris rings?
Thank you so much!
OH AND I'M SORRY ABOUT THE DIRTY CAGE IN A COUPLE OF THE PICTURES! HAHA, THEY HAVE MULTIPLE CAGES, AND I WAS IN THE PROCESS OF TAKING THEM OUT OF THE PLAY CAGE WHEN I SNAPPED THOSE PICTURES, THEIR CAGE NEVER, EVER LOOKS THAT DIRTY. OOPS!
Torie