Discussion Starter
·
#1
·
over the last month or so Leo has been giving me a run for my money. starting a while ago, he had a normal moly and some of his face feathers and head feathers, the ones that are striped, came back clear (yellow). i did think much of it since his behavior is normal. fast forward some and he seemed to be becoming blind. once it got darker out, he was unable to move around the tree if he tried to fly and i would always have to look for him. i started putting him back before the others and before it got dark. during the day he would fly and it was like he knew the general direction, but would guess where he was landing. he did not show signs of illness, but more so that he just couldn't see where he was. currently, he still seems like he is mostly blind.
this last molt made everything even more weird.... his feathers were coming in yellow. some of them came it green again, but a few body feathers are now yellow. keep in mind that he was a normal yellow base color (green and yellow, like the wild ones). then his down feathers started sticking out. some of them are abnormally big and fluffy.
he was originally from petsmart (aka bird mill birds) and then i got him from my friend because she didn't take care of him and Ace. so i am thinking that it might be bad genetics, part of me also thinks it might be an internal thing. BUT, i have not brought him to the vet yet because he still has a great appetite for everything, he still sings, still flies/moves around the trees, and still acts like a healthy bird. he even was trying to bathe in the water dish last week! i might consider bringing him to the vet next time i bring leon for his beak trim
this is a before pic.
this is after. his eyes are more dilated and i would imagine that its because of his bad eyesight. (he was a little scared of the camera in this pic so he is skinny looking)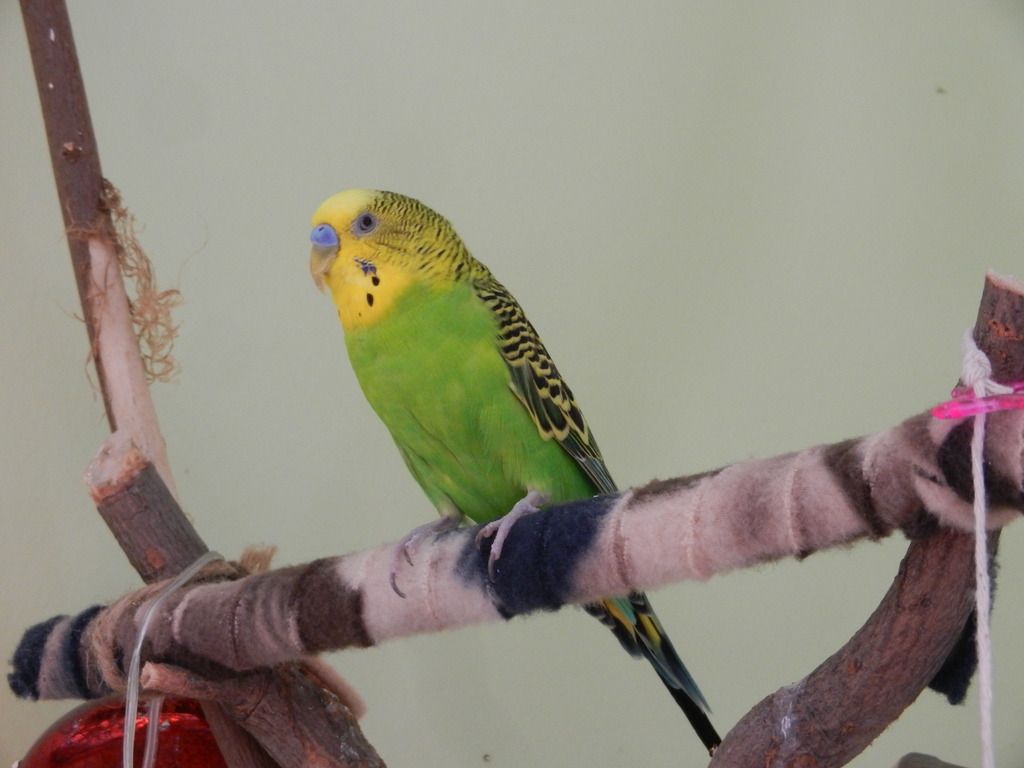 i have to get a picture of him and the down feathers sticking out. this is another after