·
Member of the Month June 2014
Hi. Everyone!!! This weekend a friend took me fishing on Saturday afternoon we went late in the afternoon and i caught a dart fish but my friend said it was not big enough to take home i caught two small ones of those.
It was my Dads birthday today so this is what i wanted to do is go fishing as my dad loved it.
Anyways on Sunday i had to put roses out for my dad as he would of been 90 today but after that my friend took me to the Elliott Heads Beach which is on the way there this morning.. I threw line out and I was waiting and waiting and waiting till i got one it took me quater of an hour to bring it in but it was pulling on the line so i got my friend to bring it in for me as it felt like a shark or a sting ray it was pulling that much. I bought my self a new fishing rod and i wanted to try it out and it is really good it passed the test. But we couldn't get the hook out of the fishes mouth as he swallowed it had to cut the line and put a new hook on. But when mum filleted it i got my lucky hook back.
Anyway my friend got it in for me and how exciting it was a big golden Trevalley I was so excited about catching this. I had to put the dart fish back in the water but this one we bought home so we are going to eat it on Wednesday as it is now frozen in the freezer..
My friend is going to take me back fishing again in a couple of weeks the water was beautiful and warm i was going to have a swim but i didn't bring anymore clothes with me next time. Mum is coming with us to when we go again. Now i have sunburn legs from the knees down but not to bad. Anyway hear is my catch for the weekend. I love the beach and fishing it is relaxing with the cool breeze blowing through my hair and the water being warm to..Just a great weekend....
Saturday afternoon late. Dart fish i caught my friend was holding the rod so i could take a photo of it..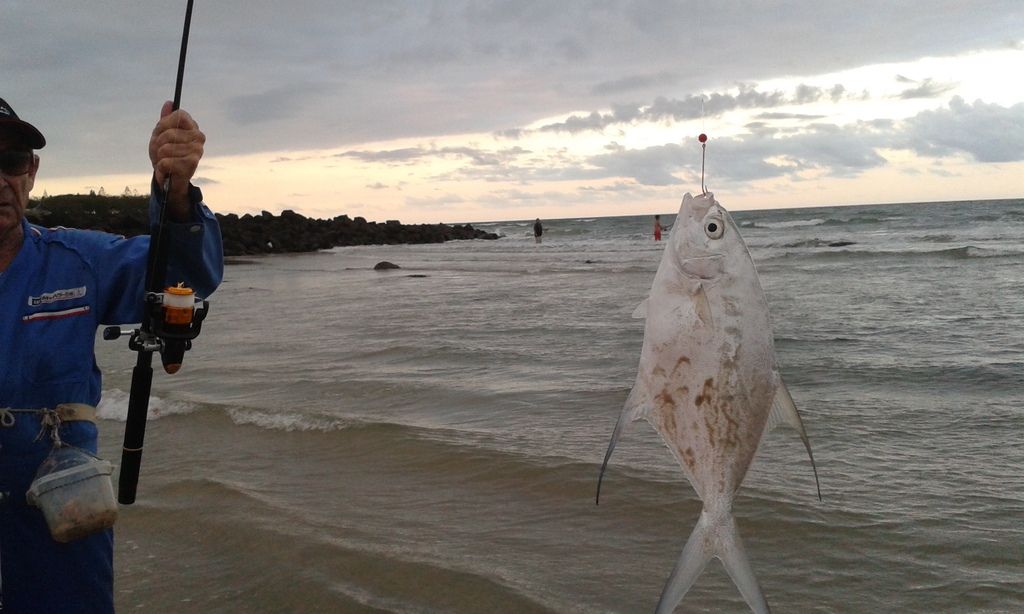 Sunday morning.
Me with my big catch of the day this morning.