Discussion Starter
·
#1
·
Hi all
I have come here for some predictions for our pair who have chicks currently in the nest. I am just curious as to what we could expect, and then I will post pictures of what we end up with.
This is Sky. It doesn't show in any pictures I have but she has a white patch on the back of her head, so I wondered if she was Dominent Pied?
This is Cirrus. I think he is Cobalt Blue, Dominant Pied, Clearwing - am I right?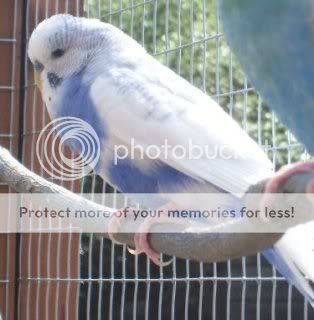 Sadly Cirrus died 2 days before his first chick hatched. We have no idea why, except that he was attacked by another hen 2 weeks beforehand. This is the end of colony breeding for us, and we already have cages ready for use next year.
Thanks for you help in advance