Discussion Starter
·
#1
·
Hi guys!
It's been a while, but life is life. My little Eitil is doing as fantastically as ever -- he's loud and proud of it, haha. He's also a very impressive bird, intelligent and handsome, and I've started thinking it's a shame there aren't more like him. So I'm considering making the cagemate I want to buy him a female, and breeding them once she's old enough. Now, I know a little about breeding and know there's a lot more to learn, but I'm not looking to do it this month (heck, though I want to get one soonish there's still a nice long quarantine) or even before Christmas most likely; I'm just tentatively sticking my toe in.
If any of you remember me, Eitil is a dilute blue opaline, from what I've been able to discern. He eats anything I eat and share with him, has good size for a male and has been quite healthy for five years now. He comes from a responsible and awesome breeder, and has great genes -- and I'm interested, very interested, in genetics. Not to mention he's a GREAT feeder and feeds all of his perches and toys and bowls and the bars of his cage all of his nice regurgitated food after he, ah...loves them. Yeah.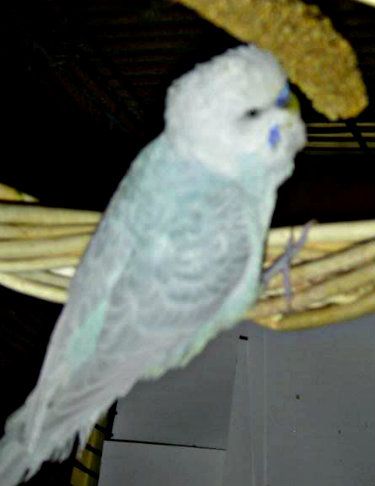 There's the boy; best current picture I have of him, even if he is all puffed up and 'I'll eat your eyes if you touch my millet snack'. So...I'm wondering what type of female to buy to breed him to. Personally, I really would love some type of green. I just think they're gorgeous! But the green is dominant, right? So not pretty little dilute blues? It might still be worth it. How about spangle? Would a green cinnamon spangle be dominant in any way, with his opaline and dilute in the picture? I know the health/size/build of the female is way more important, but I'm sure not going to pick one that's unhealthy or built crazily, so.
Sorry if this is long -- I'm just curious if anybody has any opinions on this.