Discussion Starter
·
#1
·
Not sure if this should be in this section, but wasn't sure where else to put it.
Another moulting question!
I have noticed a change in Maya's feathers since her moult started, and thought I would ask about it. Starting in October, her new cheek patch feathers are coming in white, rather than violet. When I first got her, her cheeks were a deep violet, and now the new feathers are coming in white or a very, very light violet. All of the other new feathers are normal in color, the change is just in the cheek patches. Is this normal? Or is her diet lacking in something? Stress?
I'm attaching some pictures for comparison.
#1: The day that I brought her home at about 9 weeks old. Note the deep violet cheek patches.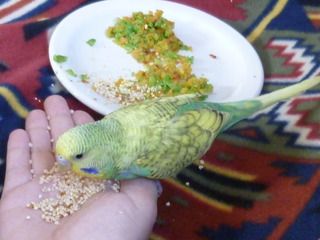 #2: Mid-October, just shy of 5 months old. Some white, but still has the violet.
#3: Tonight, at just over 5 months old. Most of the new feathers are now white. There are many more pinnies to go....
Thanks all! I'm sure I'm worrying over nothing, but I'd rather ask and put my mind to rest. Lol.