·
2014 MEMBER OF THE YEAR
Hello guys, I thought about summer food and fried veggies came in my mind. Here fried zucchinis, eggplants and peppers are considered as a delicacy.
For 5 people we'll need:
2 big zucchinis, sliced
2 big eggplants, sliced
8 peppers (any size and colour you like)
1 cup flour
olive oil
salt
First of all, put salt on all vegetables and keep them aside. Heat olive oil in a large skillet over medium heat. Fry the eggplants in hot oil in batches until golden brown, about 3 minutes; Remember, eggplants "suck" the oil inside them, so you have to put in a small amount of oil every now and then.Then transfer to a paper towel-lined plate. Once the eggplants are done, fry the peppers.Then stir constantly until peppers are blistered over half their surface, occasionally shaking skillet, about 2 minutes. If the peppers are more, repeat. Transfer to a paper towel- lined plate.
--- optional----
Fried peppers are served here often with tomato sauce. If you want to try this, then when the peppers are done, put in the frying pan 3 trimmed tomatoes, mint, oregano and salt. Let the food boil in low heat for 10- 15 minutes.
Put in a bowl the flour and salt and mix them. Put inside one slice zucchini at a time, make sure that the surfaces have flour and fry the zucchinis until they are lightly brown. Continue until the zucchinis are over.
Serve the fried eggplants, peppers and zucchinis with tsantziki sauce, feta, whole grain bread and greek salad. Enjoy!
They will look like this:
Zucchinis:
Peppers: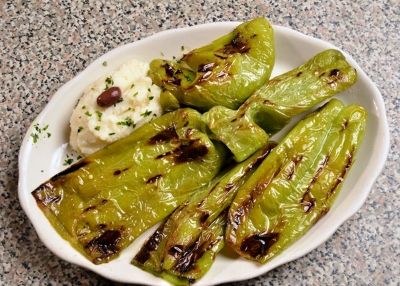 Peppers with tomato sauce:
eggplants: