Discussion Starter
·
#1
·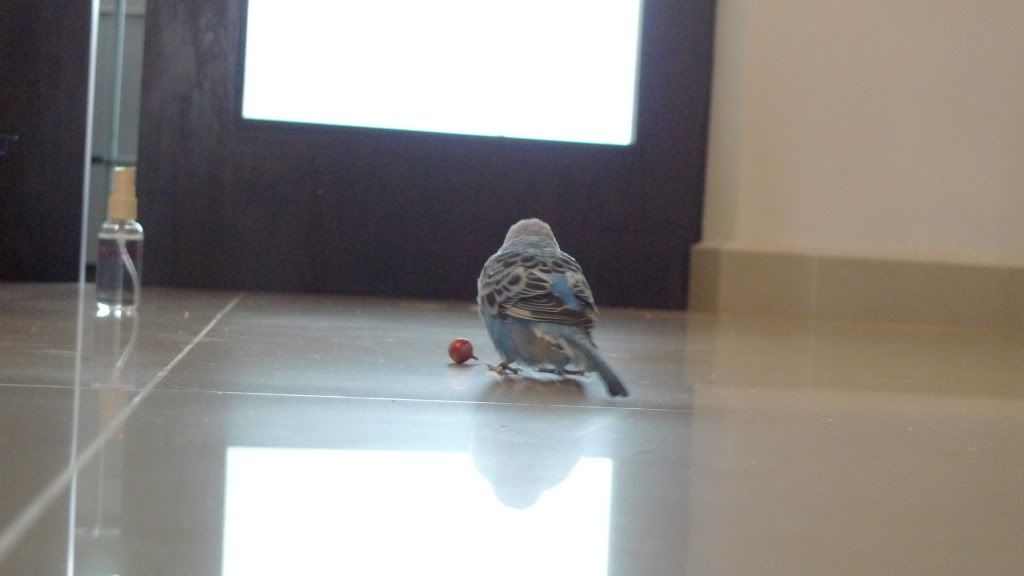 3rd May(Tue). ~10pm: An usual busy evening with preparing soft food mix, daily pea shoot. hubby was playing bell with tamed Baaji on the floor in living room near to the sliding door leading to kitchen. i was rushing him to settle the rubbish in kitchen has what he promised. he stood up and open the sliding door and step into kitchen.
the next thing i heard was him shouting anxiously" BAAJI! BAAJI! BAAJI!! BAAJI!!!! and dash to kitchen window.
According to him, Baaji followed him and wanted to land on his head, he was shocked that Baaji came to kitchen and he avoided a bit, so Baaji overshot and flying in unfamiliar kitchen and found his way out from the widely open window.
I was feeling so shocked and i didnt really believe that my 5 yr old hand tamed Baaji just gone like tat in less than half a min from last seen him playing happily with daddy.
hubby said he saw Baaji trying to fly back, but he couldn't gain altitute and he lost Baaji in the darkness.
He quickly dash down to ground floor from level9. I put Chewy back to his cage n then followed with the searching with Baaji's favourite bell.
we spent 2 hrs there... cant really see much as it was really dark. and we hear no response at all. i started to wake up from the shocks and believing that i was going to lose Baaji. my first son.
came back with no fruit. i burst out in tears and blaming my hubby. Chewy seemed to be extra quiet but more tame to us now. i don't know what was in his mind.
while i was cleaning up in the middle of the nite, i told myself, i shoudnt hv lost hope as Baaji love us so much, he wouldnt want to leave us. but i couldn't help to nag myself why this thing happen again as I lost MaeNee who only spent 5 mths with us in Feb, also similarly flew away. this has nv happened for 5 yr. but now happened in a row in 3 mths time. I was so devastated because we supposed to celebrate with Baaji for his 5yr b'day. (we don't know what date exactly he was hatched, but we always regard May 06 was his birth month. His B'day gift from Jimm-V(Roland) was still await for my collection. everything was so screwed up. i suddenly felt that i hv been taking Baaji's existence for granted. We always said Baaji is the happiest ever bird and we always wonder why we are so lucky to have Baaji but the bubble seems broke.
Perhaps i hv spent too much of focus to Chewy since he was having medical condition since Dec10 after Gerger died(new bird, w/o quarantine). for the whole 6 mths i have been living in torture looking after Chewy hoping that his immune system able to fight for himself as all the vets we hv seen either don't think he is sick or not able to help his polyuria condition.
i was tearing whole nite. i keep consoling myself that Baaji being a bird wheeze with short distance of flying in living room, he wont flew far away. and because of the darkness he didnt response to me. I shall tried n look for him the dawn. by the time i called his name he will surely came out and perch on my head.
the night was so long... 2am.. 3am...4am.. i turning on the bed couldnt sleep. i left msgs to SPbudgie(Ollie) and Budgiekin(Kim) again and again telling them how sad and devastated I was. there are the only people i can tell at middle of the nite in S'pore. their kind msgs have accompany me throughout the nites especially Ollie, has been praying very hard for me to God to beg for mercy.
I didnt dare to think what bad things could possibly happen to Baaji, like how depressed i was when i lost Maenee. I really didnt dare to paint the pictures as he is my dearest Baaji.
Finally sun has come out. I looked out from the window(this was taken afterward for illustration purpose)
I really didn't know where i should start. another challenge was the loud busy traffic sound. i tried to playback "happy budgie" song thru my mobile phone, but it was way too soft. i tried calling Baaji.. no response.
there were a lot of birds around, mynahs, pigeons, crows... none of them is Baaji. a lot of chatter in the tree top when i looked up, but none of them is blue color. i walked a lot alot from 630am to 830am, whenever i see something in blue color i was so anxious be it is just a plastic bag. i saw a lot of bird that i have never observed before. I was crying on the grass plot near the car park, whoever passed by i asked "do you happen to see a blue color bird". my hubby said i sounded so silly, somehow i did agree. what can ppl do?
eventually we gave up and back to home. i told my hubby to go to work as he already gave up. i could tell tat he was sad but he hide as he coudn't do anything. I cried hysterically when i was alone at home. many colleagues called me to console me but i just couldnt stop crying. i pieced myself up and made a poster and preparing to go to print at printshop. as what encouraged by colleague, i went down for another walk because (today) is critical.
i walked again and again. the whole 500m radious area. asked so many ppl... all the feedback i got are negative. I went to door knocked at my block 1 floor by 1 floor, 1 house by 1 house. there was a malay old lady stay in level2 i told her to look up for me if happen to see, just to inform me as i stayed in level9,exactly the same unit above her. she agreed. i continue to my door knocking. none of the ppl see and even 1 lady told me that she very symphatise me and the bird was poor thing couldnt find food. my heart broke.
I sat on the staircase and cry loudly... i called my friends and family in another country. all told me to give up and don't be silly as the lost animal is not a cat or dog, even ppl found him, not able to catch and wait until i went over. i continue my door knocking with tears and torn heart and eventually back to ground floor. I was telling myself perhaps the fate between Baaji and we has come to and end. we hv so much wonderful time, but today is the end. i was wandering on the grass plot again, crying while talking to my bird's nanny over the phone who is also my next door neighbour.
i didnt eat properly, n didnt sleep. i felt my body almost torn apart. suddenly i heard some shouting "hey, come come, in my room!". I quickly put down the phone and i saw the 2nd floor Malay lady calling me from the kitchen window.
I coudn't believe my ears. i ran up to 2nd floor, and she already at the corridor. she told me in broken english, "your blue bird!"... OMG~~~~~~
I cried even more!!!! OMG~~ OMG~~~ i keep repeating to myself.. oh my God, God answered our prayers! God has mercy to Baaji!!!
I dash back to level 9 via staircase to take Baaji's cage with my totally lost contol emotion. Back to the lady's house, i opened the room door, oh.. my little Baaji was really inside!!!!! he was perching on a clothe hanger that the family set for him. i was crying out calling Baaji but he seems a bit stunned. he usually will shout excitedly when he see us. but he just stunt. he came up to my finger reluctantly. i put in back to his cage with his favourite bell and he start playing and made some noise.
I hugged the malay old lady and thank her so much as i could, i almost kneel down on the floor. couldnt help to control my emotion. how did Baaji come back????? I asked the same question.
According to old lady, after i left, her daughther-in-law(DIL) who stayed in the opposite block(yellow color on the right from the 1st pic) came and old lady told her to look around when she on her way back. coincidently the lift that DIL usually took broke down and she has to walk further to the central lift lobby, and from there she saw couples playing with a blue bird! the blue bird hopping around their hands!
she quickly went home n phoned the old lady and old lady sent his son over. with further enquiry, he confirmed that was a found bird, and eventually he brought the blue bird on shoulder crossing the car park all the way from 1 block to another, even went up to level9 to knock on my door but i was not in!
he could only brought home.
I made a thank you card from this pic with the quote from Chewy(white and light blue) that "thank you aunty for bring back Baaji to us!"
like that the amazing lost and found for Baaji. and until now i still dunno how he spent that nite. he was eating drinking well, not in stressed when he got home. he was only a bit dusty and being sticky to human. he lost some soul in the sense that he didn't seems to recognise us but the next day he has back to his normal self. he is still on a loose quarantine just in case. his poops is not perfect but it has been pre-exisiting before he flew away. i hope soon i can let them play together.
I m grateful that today he is still able to enjoy this cheek rub from me.
and we have decided that 4 May will be Baaji's birthday from this year onwards, and he is sort of re-borned and reunited with us!! a meaningful day not only a birthday.
2 lessons learnt:
1. don't always take things for granted. cherish every moment, whatever you possess can be lost by seconds.
2. don't give up hope, even though the chance is slim. just do it, and you wont know what will happen.