Discussion Starter
·
#1
·
hey everyone
I have been having an extremely worrying time with Harley over the past 3 days.
Saturday I noticed that Harley had been sick (In the way of regurgitating and flicking it all over himself - resembling an orange gunk that had a very fishy foul smell)
Sunday Harley seemed puffy and lethargic, not eating and not passing any stool.
Monday pretty much the same but passing stool of clumps of undigested seed and attempting to eat some millet
(PICTURE TAKEN YESTERDAY - DUE TO FLUFFY FEATHERS AND PUFFED OUT YOU CANNOT SEE HOW MUCH WEIGHT HE HAS LOST
Rarely do I pick Harley up in terms of physically hold and restrain him unless a need, but I did and noticed that he felt paper thin and feather light - you cant tell from looking at him under those gorgeous feathers.
I weighed him and he weighs 20g - Underweight
The vet surgery which I have always used only had 1 vet that was confident in her capabilities to treat budgies, I called and she had left, and none of the vets there are confident they can treat birds...
desperate I called around surgeries within my area and further afield and I can honestly say to find a vet that wants to treat a budgie and are confident they are able to, is as hard as finding a needle in a haystack!
finally some wonderful lady recommended a vet that wasn't too much of a journey who she knew had been trained in working with birds a great deal, so Off I took Harley this morning
Over Monday night until the vet visit this morning, his condition has remained the same - Still passing undigested seed, still attempting to bring something up (A regurgitation movement - not able to bring anything up), he was repeating this constantly, then fluffing himself out and going back to sleep. - Me - I was so worried I woke up every hour during the night to check hes ok, still breathing, still balancing and still ok.
The vet couldn't tell there and then but in case of an infection he's on Baytril Antibiotic morning and evening.
My gut instinct is that there is an obstruction(I had been watching him with toys and noticed that certain things he was eating rather than shredding like Tilly does) so a while ago I removed any rope toys and shreddables would be with my supervision - I have a gut instinct that him ingesting toys - i.e. rope , shreddable bits off toys has built up and causing this,
tomorrow morning I have him booked in for an Xray to investigate further.
On returning home I have noticed a lump that he has passed from his bottom (Pictured)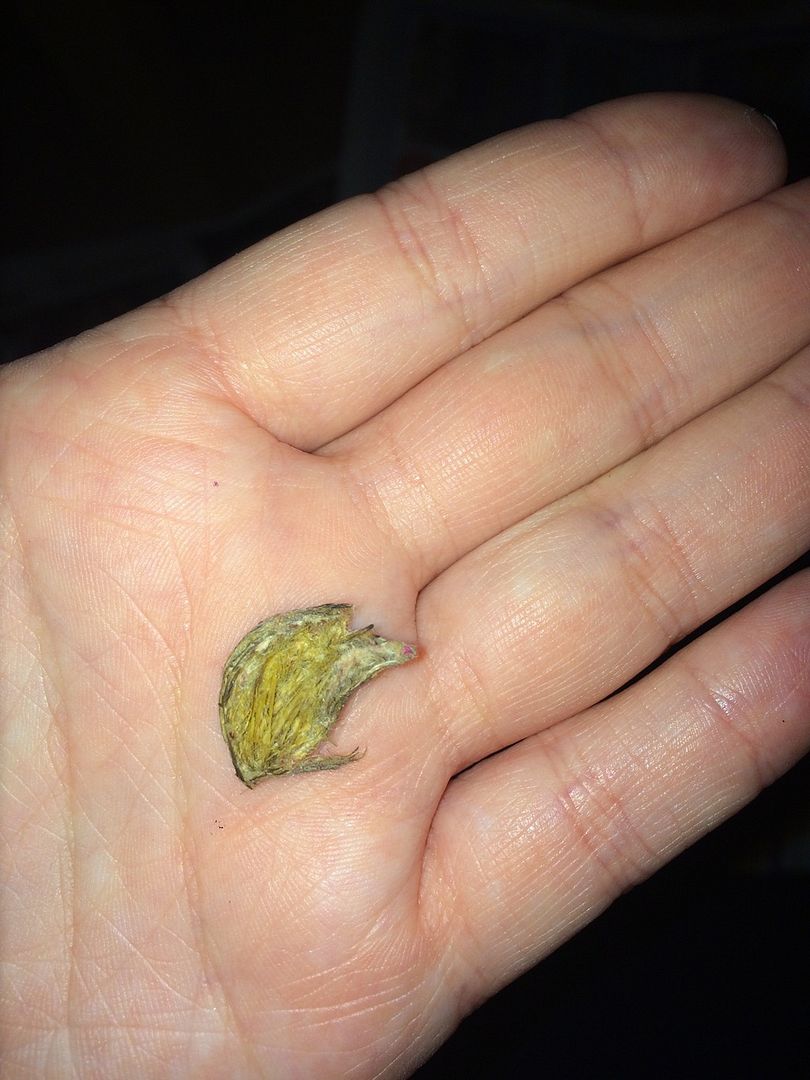 (AS YOU CAN SEE ITS ALMOST LIKE A DRY HAY LIKE TEXTURE, ITS ABOUT 10X THE SIZE OF A SMALL BUDGIE DROPPING, IT HAS NO POO IN WITH IT BUT SMELLS FOUL - THE SAME SMELL OF THAT FOUL FISH YEAST SMELL)
This appears to be bits of the shreddable toys and possibly rope that had been accumulating in his crop /throat or tummy that has wound together with time and caused him to be very ill.
What should be a natural toy that should be fun has caused the most critical and ill health Harley has ever had. I feel awful. I'm worried sick, I haven't stopped crying and I just pray that he has passed this out and that is all that was in his system and no further illness has come of it.
His stool (after passing this lump) is not NOT indigested seed, but resembling stool again, Its dark almost black but its at least, resembling poo again - I have placed white paper under where he sleeps so that I can look in the morning before he goes to the vets on what he has passed over night and fingers crossed it will improve further over night .
(I SMUDGED THE BLACK PART DOWNWARDS AS I WAS CHECKING FOR BLOOD ETC)
All toys that can be chewed and wound together has been removed and replaced with safer toys.
Lets PRAY tomorrow brings good news and Harley regains his weight, strength and lives a happy health life - He is my absolute world along with Tilly and I cannot even imagine life without him!