Discussion Starter
·
#1
·
Hello! I'm Carol! Nice to meet you all!
I work at a pet store (Pet Supplies Plus). Lately we've had a lot of trouble with people trying to surrender pets to us, and our company policy won't allow us to take them because we can't guarantee their health/the health of our current animals if they are added in.
Today, a man came in with a cage and two budgies. He set them down on the counter, told us he wanted to return them, and then after some questioning, (do you have a receipt? no. Did you buy them here? no.) He states he didn't buy them here, he doesn't want money, he doesn't want the birds, he's just leaving them and 'do whatever you want but I don't want them'. We tried to tell him he couldn't, but basically he just left the cage there on the counter and walked out.
We couldn't keep them at the store, and so the manager wasn't sure what to do with them. Long story short, I decided to take them home with me rather than any of the presented alternatives, and I'm a sudden newbie budgie owner!
I'm a long-time rat owner and I have very little expertise on bird care, other than basics. I'm really, really wanting to give these two a great home with the most loving, caring atmosphere I can provide them! I've already read quite a bit on this forum before I joined and I'm reading every other piece of information I can, but I'm looking forward to learning more from all of you!
One budgie is a male I call Jos. The other is a female called Valk! (They're named after a Mandalorian couple from Star Wars: The Old Republic.. haha...)
Here is a terrible picture: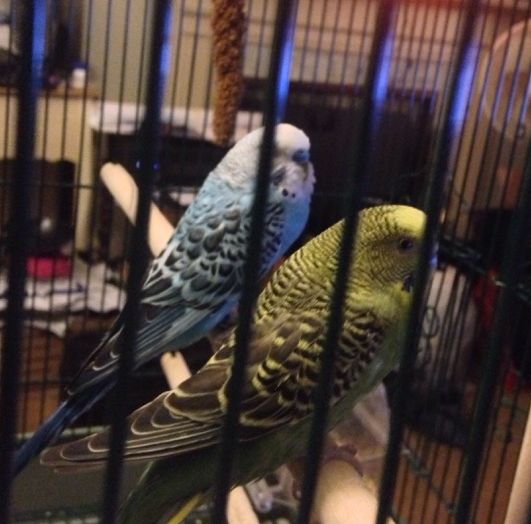 They've had an incredibly stressful day, but I'm so excited to do the best I can with the care of my new accidental birdy buddies! And I'm excited to befriend you all as well! If there's any specific advice anyone has I'd love to hear it! Thank you so much!