Hello fellow Talk Budgies members! I am new to birds and will soon be caring for a green budgie -- who was named Nino by my boyfriend and I. :green budgie:
I have read through many of the forum's stickies, but am still unsure of and concerned for Nino's health.
A bit of info beforehand:
My bf and I live in separate households. A few weeks ago, his dad found a budgie outside and they decided to adopt it. (No, they did not try to find the owner... :sad: Edit: Sorry, I forgot to mention that though his family did not search, I did. I searched online and looked to the humane society for lost budgies, but no reports for the area Nino was found in.) Unfortunately, my bf is the only one who cares for Nino and as his first pet, it is becoming too much for him. He also recently got a full-time job and is no longer able to spend much time with Nino.​
We came to the conclusion that it would be best for Nino to move in with me since I have a bit of experience with pets and have a more flexible work schedule.
My first priority before moving Nino into my home is to get her checked by an avian vet. I have found a clinic of interest and am trying to book an appointment ASAP; however, the earliest I can likely book one is next week. The health exam comes with wing, beak and nail clipping if Nino needs it.
I'm a worrier when it comes to animals, and so... here I am! I have posted pictures below (apologies for any poor shots, as my bf is not the best photographer :wink1
, but here is what is concerning us. Nino's cere has started peeling (it was a crusty brown), which we hope is the result of breeding conditions. My bf also says the beak is scratched and believes that Nino may have mites due to:
Constant itching
Rubbing cere and beak against cage bars
Many feathers falling off
The fact that she was found outdoors
He has checked for moving red and black objects in the cage and missing patches of feathers; none at all. According to him, Nino is quite active as she sings along to any (pop genre) music that he plays.
I last saw Nino last week, during which the cere was not peeling. There were many small white feathers on the floor. Nino often sat in front of a closet mirror and did absolutely nothing else but poop.
I'd like to know if there are any obvious signs of health issues from the pictures.
Nino definitely needs a change in diet -- more fruits and vegetables -- and a larger cage with new perches, both of which I have already ordered online. I also ordered a cuttlebone holder; my bf placed the cuttlebone in Nino's food dish (not the best place, but ok :innocent
because it kept falling.
P.S. the flowers in the pictures are fake!
Thank you to everyone in advance for your responses!
Nino's beak looks a little overgrown to me.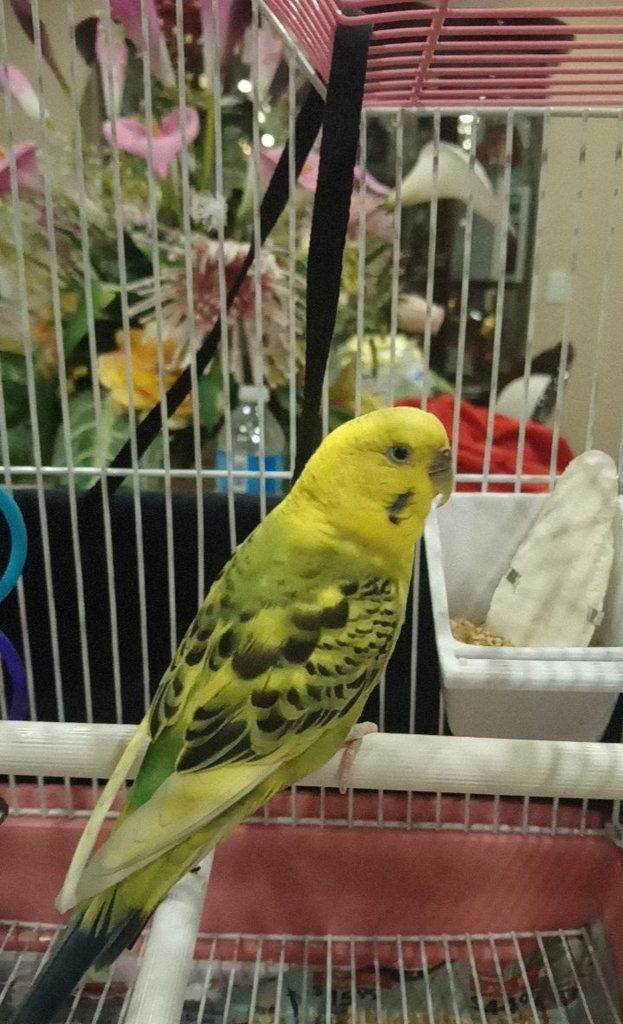 Nino's cere appears to only be peeling on the left side.