Discussion Starter
·
#1
·
Hello all
I would just love to know what "pattern" my birds are.
Im not sure which word it is you use... But I would loveeee
to know if my birds are opaline, lacewing, spangle ect ect.
I just have no idea.
ALSO;
I know budgies are only ment to be bred after the 1yr mark.. But I was
wondering what signs they will show if they are ready to mate & would
like a nest.
Im not sure really how they act, or if they have some
kind of mating dance. Thankyou all in advance.
Artek (Male)8 weeks, Abigail (female)9 wks & Gracie (Female) 24 wks
Artek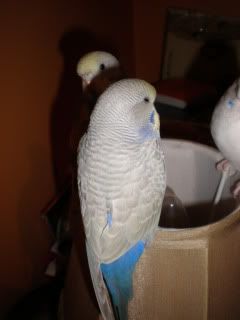 Gracie
Abigail
P.s The pic shows 1 wing cut, Both are cut now.
save them from getting into danger with wings cut.:budgie:
​