There will come a day when the life of my camera fails and I run out of pictures of Mallorn--but it is not this day!
Especially since she's been acting berserk for the past few days.
I have not!
Yes you have. She's been super clingy and constantly wants "out", and even though she's usually pretty good about knowing when to go back in to her cage, I've had to grab her twice in two days, which she hates--
Of course I hate it! It's uncomfortable, you ruffle my feathers, and your dirt gets all over them, too.
Then go in your cage like you usually do!! And I don't have "dirt".
Hmph.
Anyways, she loves music, and she adores it when I play my violin.
Now, about the violin: It's not mine. I own only one violin (well, two if you count the gross one I used like 8 years ago that sounds like a donkey's laugh) but I usually have 5 violins in the house at any given time. I have a friend who actually makes violins, and I work for him by promoting his violins and taking them home to play and show. Anyways, after playing so many different violins, many of them sound completely different. And I have my favorites. Well, the Princess has her favorites, too. So I've been playing a gorgeous red one, it's almost rust colored and the tone is just lovely. Anyways, Mallorn apparently just couldn't handle it as this is one of her favorites, too.
I should mention that with most violins, unless she really hates it, which is rare, she's learned to perch on my bow while I play. I know that sounds adorable, but I can't really play like that, as her claws catch on the strings and she inevitably gets curious and starts chewing on everything, which is terribly inconvenient as most of the time, the violin isn't even mine. Because of this, unless it's my violin, I keep her in the cage while I practice so I can get stuff done :laughing:
Well, on Sunday, since she's been acting so crazy, I let her out, and she flew around a bunch, sat on her cage and proclaimed her decrees for the day, the usual, but I couldn't get her to get back in her cage. Usually, she just steps up and I put her by the door and she flies in--rarely does she defy the ordinance of her true ruler--
--that's what you think...
Oh.
Well, at any rate, she would not go in. Not. So I took out said rust colored violin and started to play, and of course she landed on my bow, sat on it, chewed at everything and no matter what I did, she would not do absolutely anything otherwise.
Did I mention it isn't my violin??
Well, I couldn't resist, so I took a few pictures of her being...notorious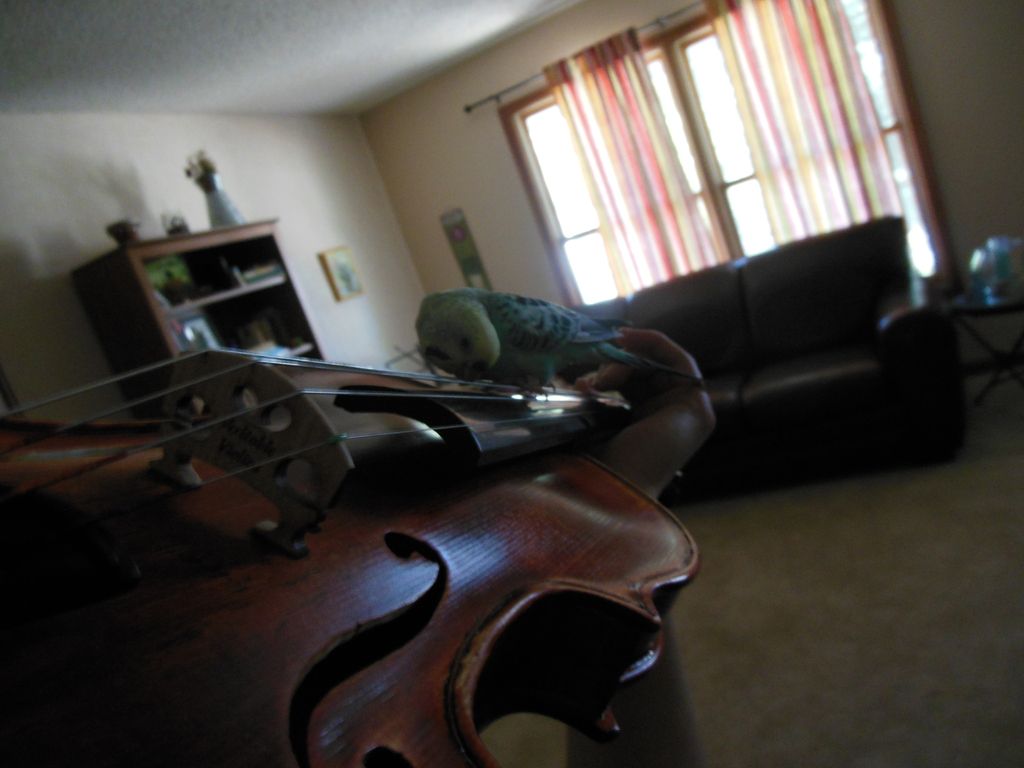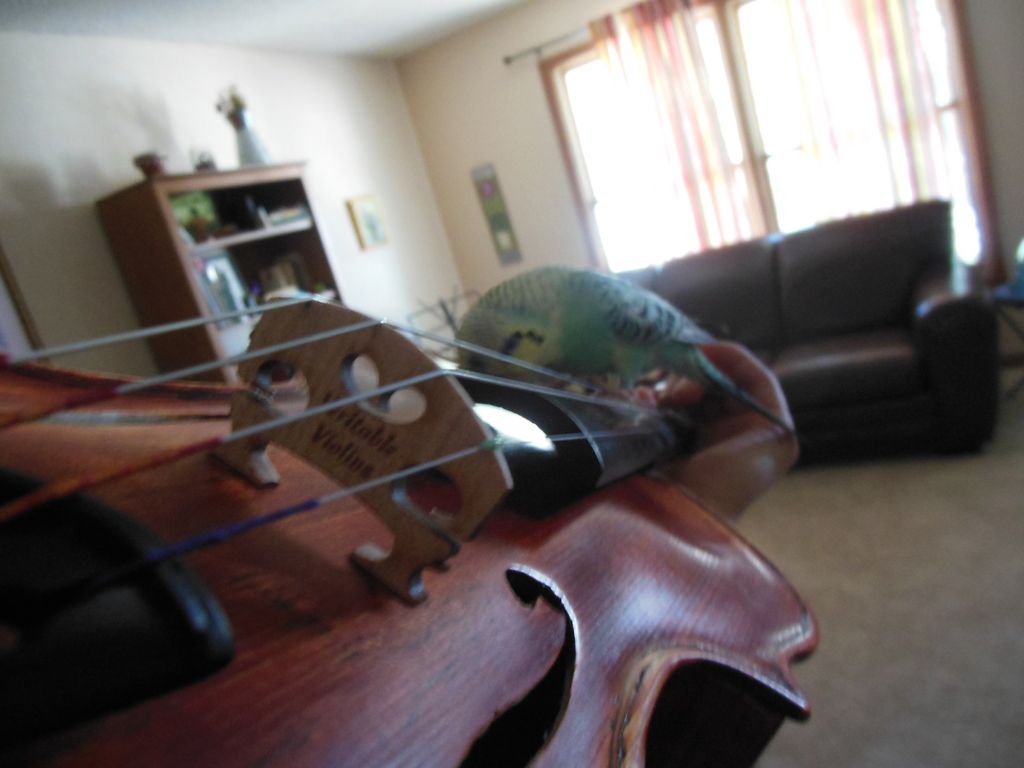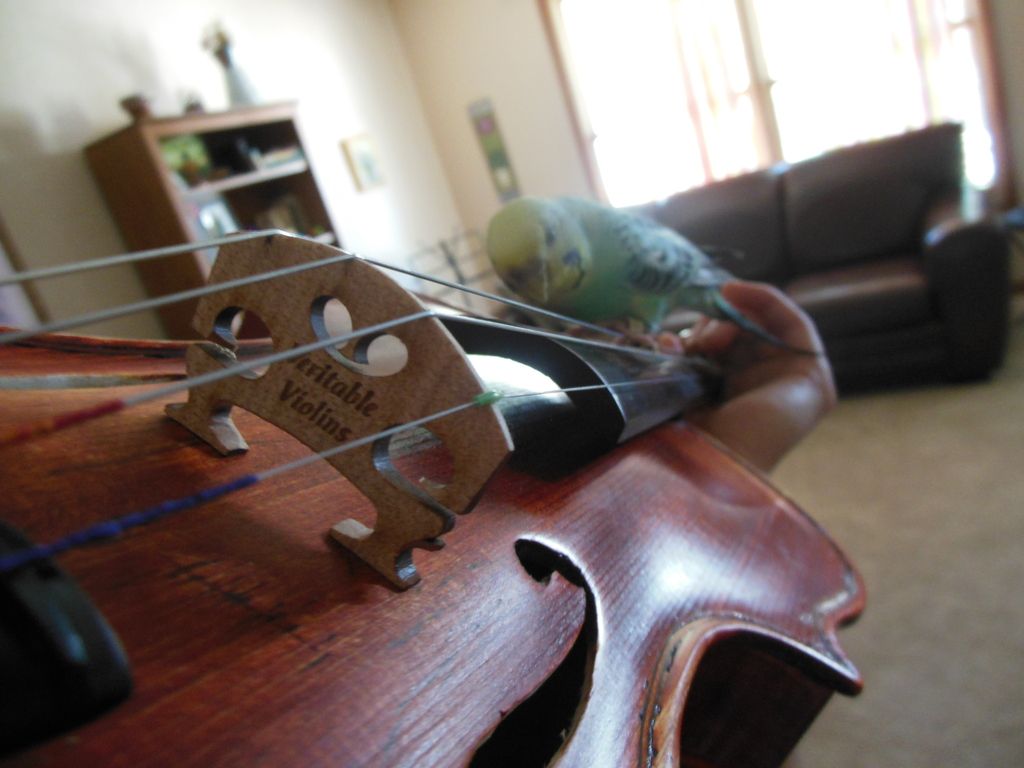 "Mallorn, please don't chew on the violin," she says. But why? I do what I want.
Don't worry--no violins were harmed, I made sure she couldn't chew on it too much.
Too much! I hardly got to
look
at it!
Pretty sure you did more than look, darling. Goodness.
Well, hopefully you enjoyed that amusing tale of Mallorn's petulant and irrational behavior--
I am neither petulant nor irrational!
We all are sometimes. Just try not to do it every day!
I'll consider it.
You better, you rapscallion.
Cheers and thanks for tuning in, guys! :wave: