Discussion Starter
·
#1
·
My nest pair chicks are proving to be as interesting as my yellow pair's chicks.
Here are the parents..Dad flying
I expected yellow faced blues.... lol, do I have a lot to learn... I will get current picks soon. One is looking purple, 1 grey, 1 seagreen, 1 blue, and 1 I can't tell yet,,,still white fuzzy. all 6 eggs hatched but one was not fed. I took it and hand fed for 48 hours but it passed : ( It just wasn't meant to be, I guess that uis why the parents pushed it to the side away from the clutch.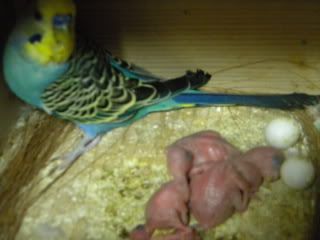 I will get new picture showing the coloring of the feathers...I am suspecting violet factor...I hope
I know with gouldian finches you can tell the mutation by the chicks skin color...is this tru with budgies... they seem to all look pink to me.