Hello all, here is the long awaited thread about--
Me, obviously.
Can I at least do the introduction?
No.
Too bad. Anyways, this thread is about Mallorn, as she wants it to be, and also comes with some interesting developments. It seems that Tilda and Mallorn have become friends--
I wouldn't call it a friendship--
--that has gotten to the point where Mallorn actually mimics Tilda and speaks "Doveish" to her and they visit regularly through the cage bars, even trying to preen each other.
So to clear a few things up, Tilda and I are
not
friends. But she's nice. And we talk. And sometimes she preens my tail feathers. But we're not friends. And, yes, I speak her language but princesses are supposed to learn the language of their people so I'm trying to fulfill my duty as ruler. Any questions?
I doubt it, after you cleared that up so thoroughly. Anyways, I told Mallorn she could comment on her own thread so--
--here I am. Enjoy!
I call this one "Interruption from an Obnoxious Caregiver"
Excuse you!
Touché. Bye Mum.
Sorry.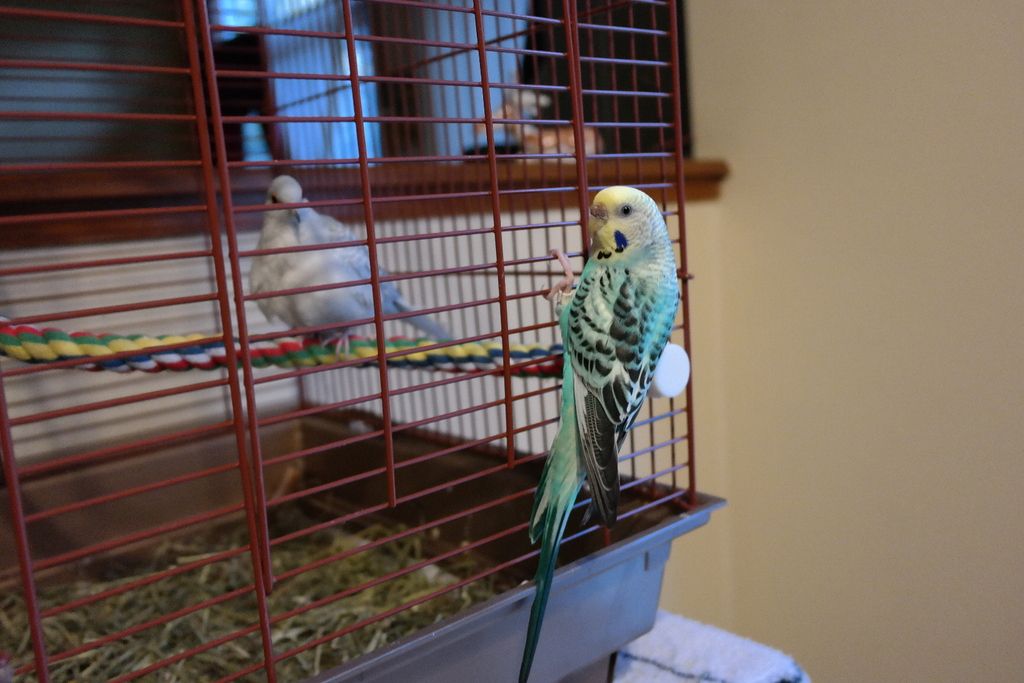 Hi peasant, how was your day?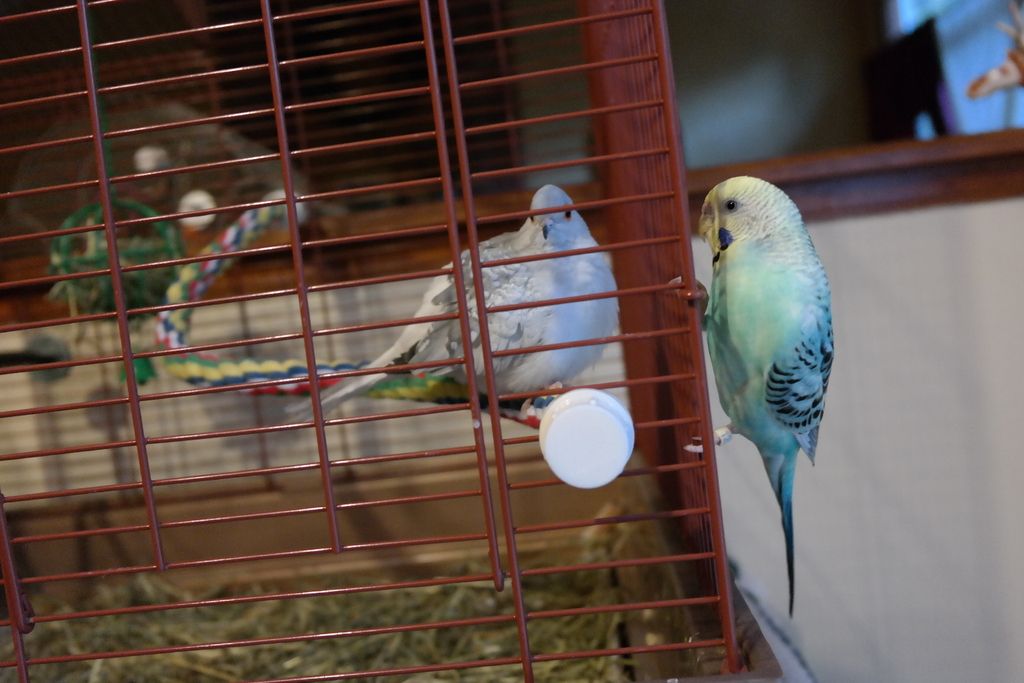 Is there room in there for me? Because it sure looks like it. (Code for "Mum I want a new cage")
Hey, I'm working on it. It's for your hatchday, remember? Patience is a virtue.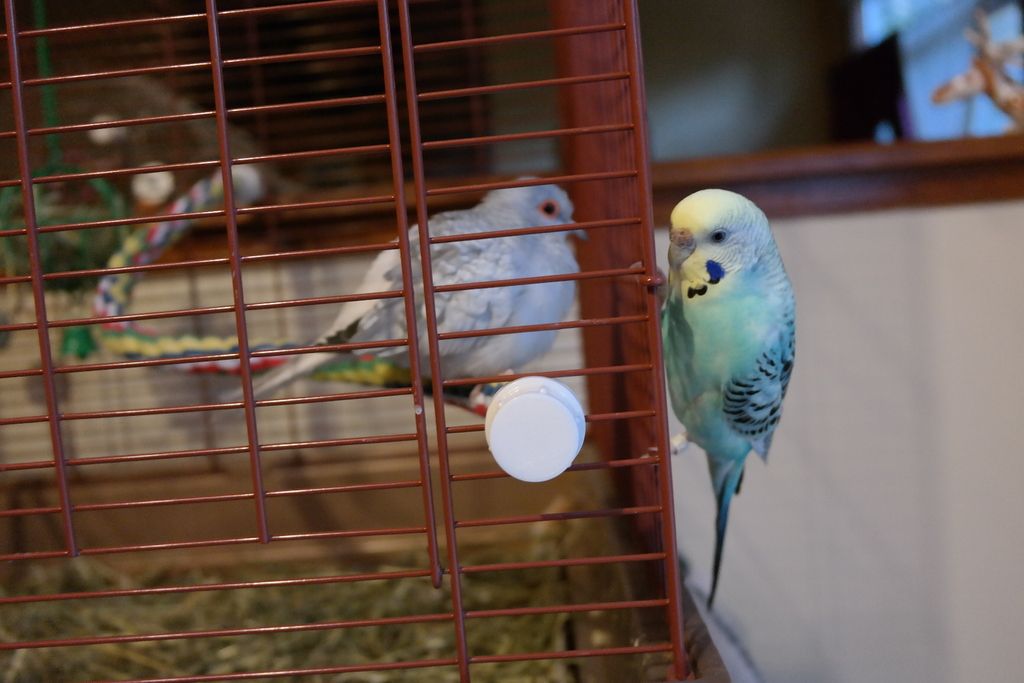 That rope looks comfy...Oh, wait, I had one before you. Haha.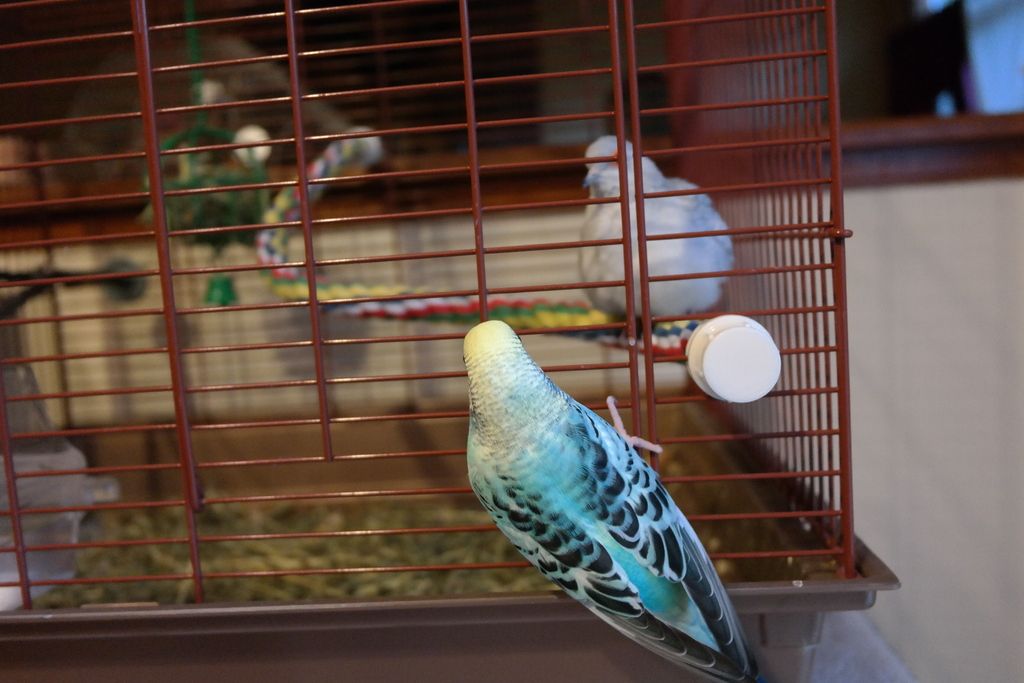 Here's me asking why Mum was still there when I was clearly only checking up on my kingdom.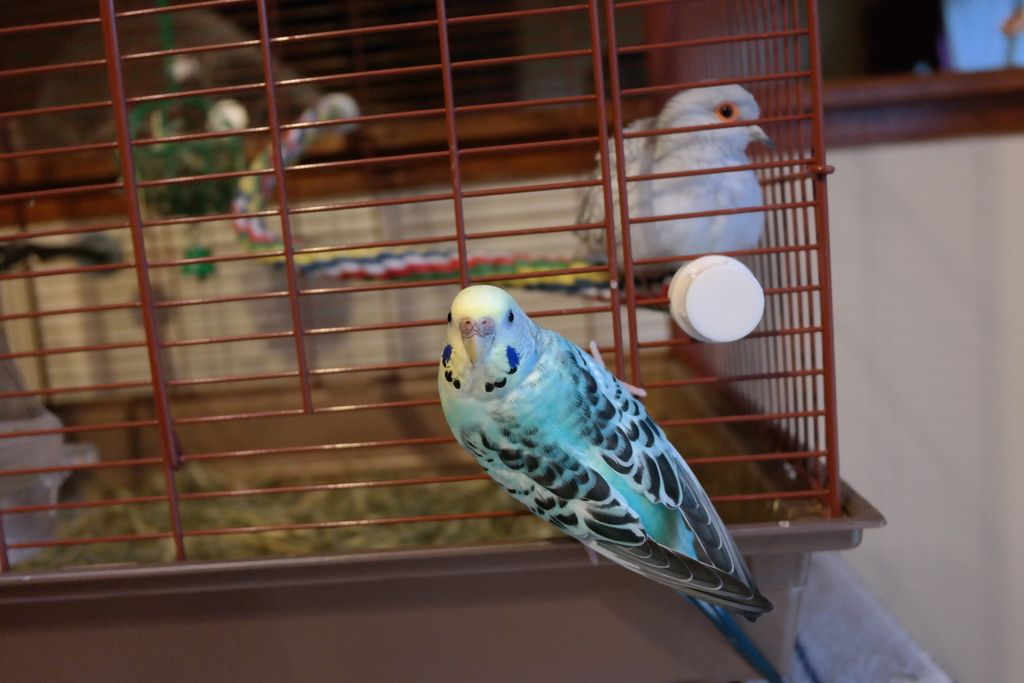 I decided that if she was going to hover around with the camera, I may as well pose, right? Nothing like a wasted opportunity to ruin your look.
"What was that, now?"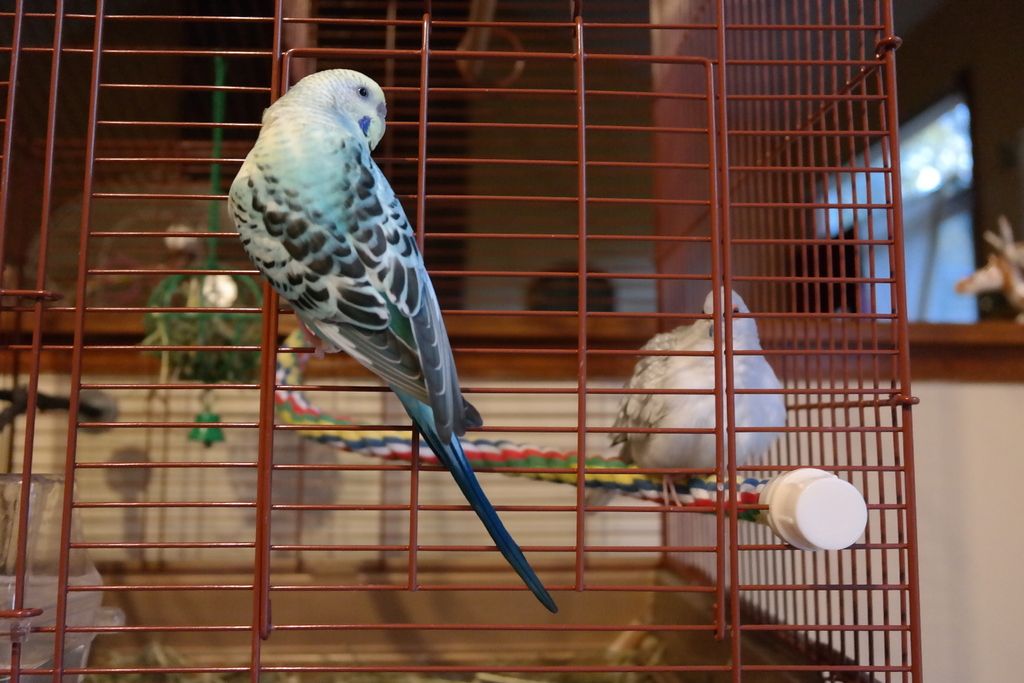 It annoys me when Tilda turns around because she should always look at me because I'm royalty. Besides, I was in the middle of an important discussion on the Top Ten 2015 Fall Fashion Secrets!
We're not friends, I was just preening her to be nice.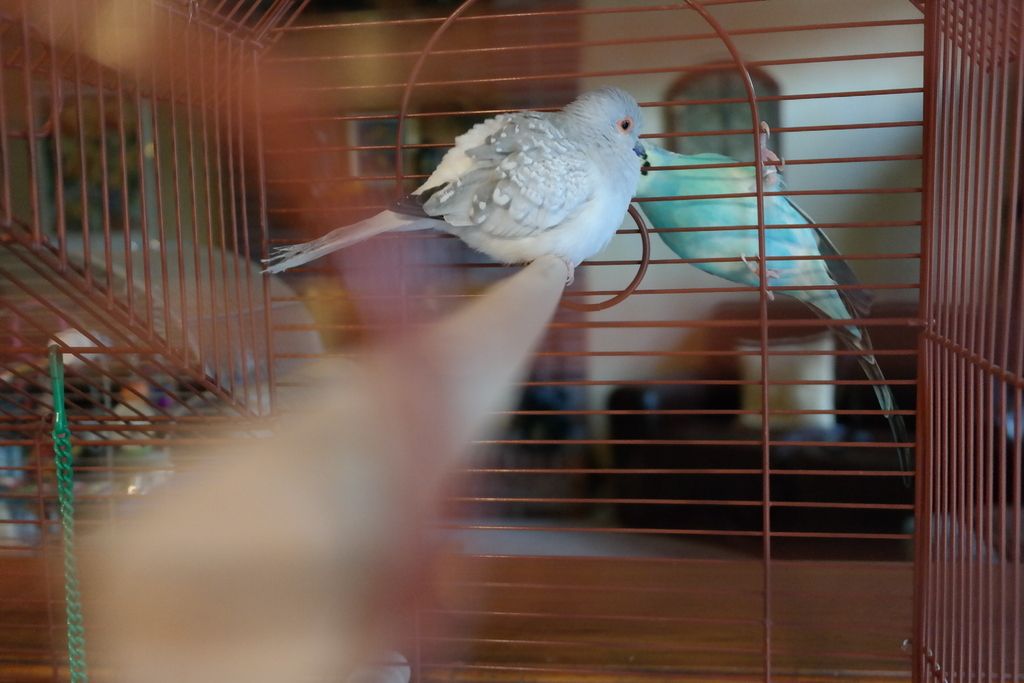 Stop trying to stalker pic me, Mum, I see you behind the potted plant. We both see you, actually.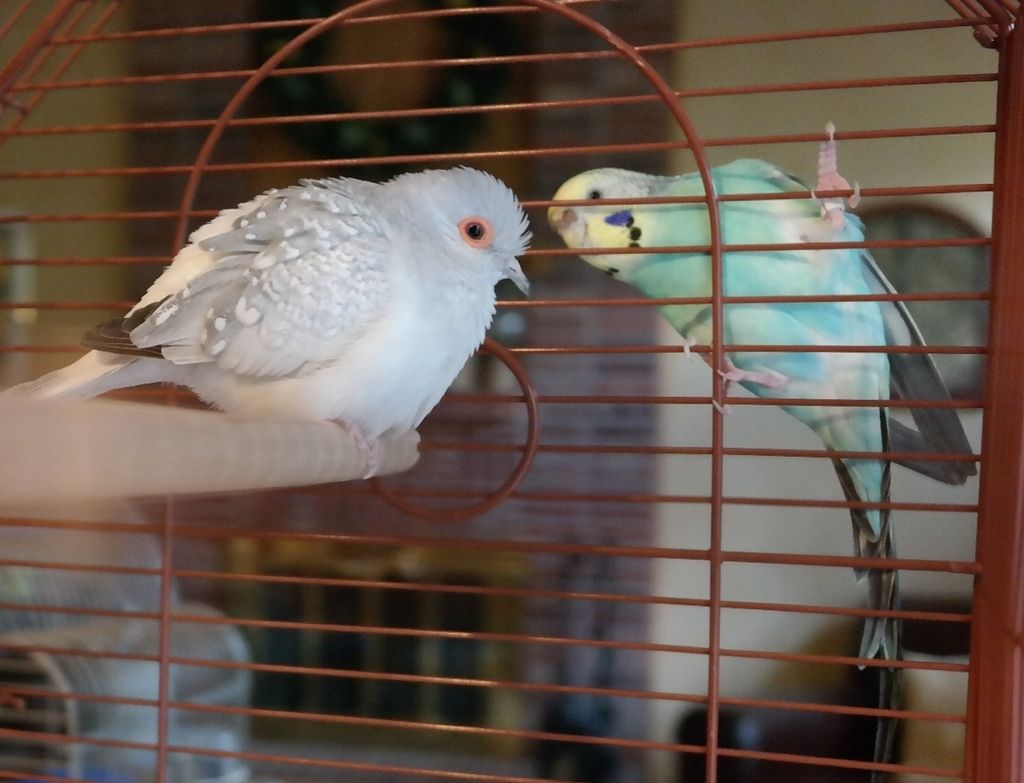 I tried to break in so I could have her cage as well as mine, but the bars didn't yield to my majesty like they were supposed to.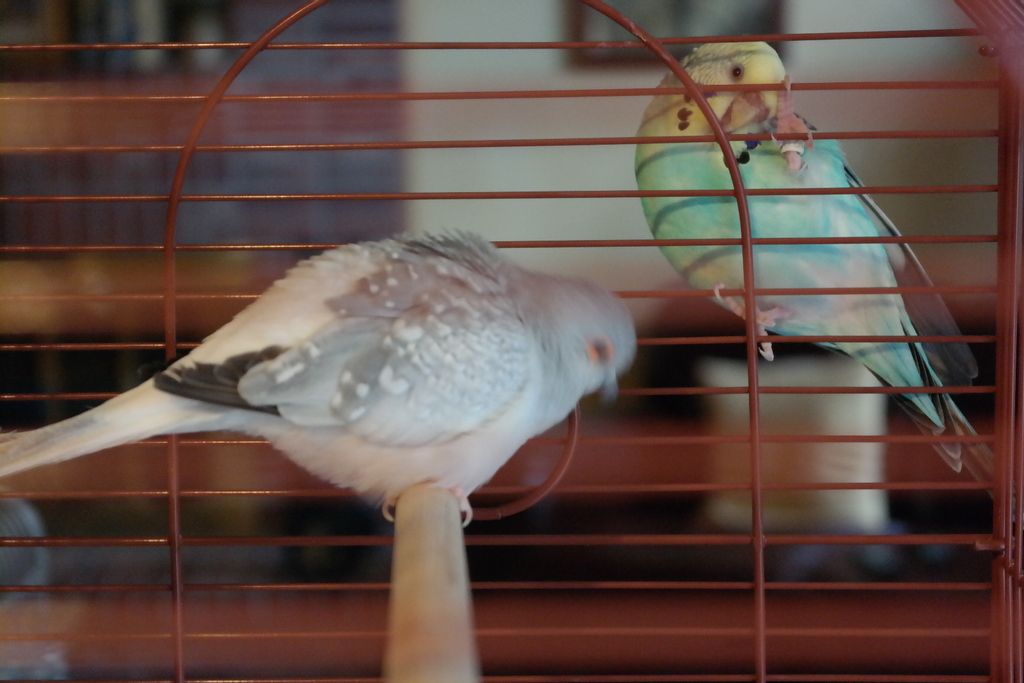 I guess I'll try again tomorrow. Anyways, that's basically it. It's nothing. We talk, gossip, preen, done. All in a day's work.
At any rate, since they're obviously very close--
Stop it, Mum you're so annoying! Ugh...
Anyways,
since they've gotten so close
(and every time the Princess visits, Tilda wants to come out and play), do you think it would be okay to let them meet, both out of their cages, in a highly supervised room?
Not that I would care, obviously. She's just a bird who happens to live here. But, I do hope my loyal entourage enjoyed my latest adventures. Cheers!
Bye for now, everyone! I'm sure we'll be back soon